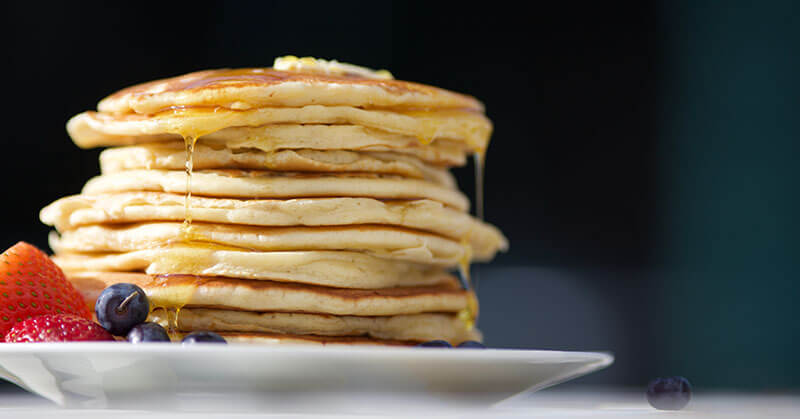 10 must-try vegan pancake and waffle mixes
Best known for their condiments and boxed macaroni and cheese, Annie's probably isn't a brand most people would turn to when looking for a boxed pancake mix. But, they actually have theirs! Their organic pancake and waffle mix is ​​vegan-friendly and organic, and they make sure to leave out any artificial flavors, synthetic colors, preservatives, bleached flour, or hydrogenated oils from the mix.
The organic brand Arrowhead Mills specializes in organic grains, cereals, nut butters and baking mixes, which include three vegan pancake mixes. The brand's protein pancake and waffle mix, gluten-free organic pancake and bake mix, and buckwheat pancake and waffle mix are all vegan. For each, all you have to do is add your choices of plant-based milk, egg replacer, oil, and maybe even a little sweetener to the mix and you're good to go.
Completely specializing in pancake and waffle mixes, Birch Benders offers a total of four vegan options. There's their Plant Protein Pancake & Waffle Blend if you're looking for a blend with extra protein, as well as their Classic Recipe Blend, Chocolate Chip Blend for Chocolate Lovers, and Blueberry Blend. And above all, all you have to do is add water!
Surprisingly, a good handful of the boxed pancake mixes that a lot of people in the United States probably grew up with are accidentally vegan. Bisquick's Original Pancake and Baking Mix is ​​one of them. And if you're looking for something a little lighter or even gluten-free, the Heart Smart and Gluten-Free versions of the mix are accidentally vegan as well. Just replace it with your favorite plant-based milk and egg substitute, and you've got your vegan pancake or waffle batter.
The health food company, Bob's Red Mill, offers an extensive line of whole grains, beans, seeds, nuts, dried fruits, herbs and spices, and pancake mixes. The company's Paleo, Gluten-Free, Organic 7-Grain, and Buckwheat Pancake Mixes are all vegan. Just grab your favorite plant-based milk, egg substitute, and vegan oil or butter, and you're ready to start making those cakes and piles.
Cooggies specializes in making non-GMO baking mixes that are not only gluten-free, grain-free, dairy-free (PS, they're actually all vegan), but all have a vegetable hidden in the mix (butternut squash , spinach, sweet potato, carrot or zucchini). Their gluten-free, grain-free pancake and waffle blend is a healthy blend with no added sugars, with added butternut squash. As usual, just add your choices of egg substitute, plant-based milk, and oil to the mix and you're ready to go.
While primarily known for their granolas and cereals, Purely Elizabeth also offers a selection of pancake mixes, including two vegans. Their Grain-Free Pancake Mix is ​​a grain-free (also vegan, gluten-free, and paleo) pancake mix made with chia seeds, tigernuts flour and almond flour. Their Ancient Grain Pancake Mix is ​​a vegan, gluten-free blend made from chia seeds, teff flour, and buckwheat flour. An egg substitute (they suggest bananas), oil, and water are all that needs to be added to each of the mixes to make the dough work.
Simple Mills focuses on creating grain-free cookies, crackers, baking mixes and frostings, most of which are also vegan. The brand's pancake and waffle mix is ​​their take on classic pancakes and waffles, but made simple, with almond flour, coconut flour and coconut sugar. Plus, the blend is gluten-free, soy-free, corn-free, and free of gums and emulsifiers. All that needs to be added to the mixture is an egg substitute, water or milk and oil.
Specialty food producer Stonewall Kitchen has product lines of several different items including jams, chutneys, sauces, condiments, and more, as well as a ton of different baking mixes. Two of their pancake mixes are vegan: their blueberry pancake and waffle mix and their gluten-free pancake and waffle mix. For both of these mixes, they suggest having milk, eggs, and butter on hand in your kitchen, so obviously just add your favorite vegan substitutes to it.
Trader Joe's has a few pancake and waffle mixes on its shelves, but only one is suitable for vegans: their seasonal Ube Mochi Pancake & Waffle Mix. Ube, the name given to purple yams in the Philippines, is known to be a popular flavor in jams, cakes, candies, ice cream and more, now more, pancakes and waffles. The specialty blend, which is also gluten-free, is made with mashed ube and rice flour, resulting in a sweet and chewy end product. Just add water and your choice of vegan eggs and butter to the mixture, and you're ready to go.
Photo credit: @traderjoesfl on Instagram