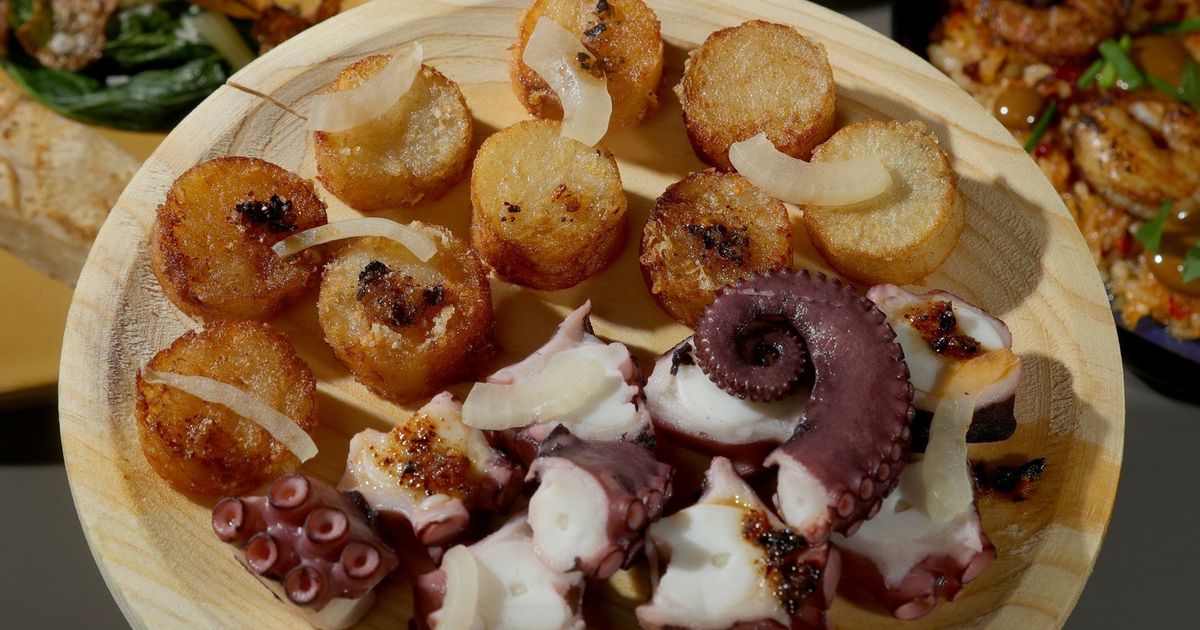 32 restaurant openings in Seattle (with bagels, soup dumplings and fried grasshoppers) amid record inflation
With Seattle inflation at a record 10.1%, restaurants couldn't have opened at a worse time. The Seattle Times reported last week that meat, poultry, seafood and eggs rose 13.7%, fruits and vegetables 14.7% and dairy and related products 21.3%. , over a period of 12 months.
But restaurant prices aren't as bad as you might expect given the terrible Bureau of Labor Statistics bulletin. I've combed through most of the restaurant menus listed below, and they don't reflect this record inflation. In our State of the Industry report earlier this summer, the Seattle Times found that many restaurant owners aren't passing the increases on to customers for fear of getting a bad Yelp review or public backlash. . Many also offer modest menus with fewer meat options and avoid expensive items such as Dungeness crab.
Savvy diners can always pick up bargains at the restaurants below. One of the best dishes I had was a $13 fresh pasta starter at Frelard. One of the best values ​​was an $11 deep pizza on Capitol Hill that could feed at least two. Details below.
The wait for a table can last an hour to MariPili tapas bar, the grand opening on Capitol Hill. Get there early or sit at the bar to avoid the long queue. Management has also started taking reservations for groups of four or more. Chef and owner Grayson Corrales, former pastry chef at JuneBaby, is making a promising solo debut after completing his three-month internship at the two-star Culler de Pau restaurant in Spain before establishing his Galician-inspired menu here. The menu ranges from a dozen small plates (mushroom croquettes and lamb and pork meatballs) to a handful of dinner-sized portions of pasta and meat, including roast chicken and lamb. .
oxbowof the star sea ​​bass bakers, is the latest big name to jump into Seattle's burgeoning bagel scene. Bagel snobs will be delighted that this Montlake bakery makes pumpernickel, which some readers have complained local bagel shops don't carry enough of. But can we talk about their sticky bun? Bakers Jesse and Kit Schumann bring this classic back to balance – a spongy sweet and sour bun with a caramel shell and topped with a field of pecans. I can't remember eating a better sticky bun in Seattle.
For soup dumplings in Belltown, Chiho's Bistro serves four variations of bao xiao long ranging from pork with truffles to a chicken with onion version, though its best – at least during its opening week – was the spicy and tingly mala soup dumplings. This is excellent drunk food.
Plus, along this stretch of Second Avenue bars is the happy hour hotspot. Canteen hatcha New Mexican restaurant that's a big hit with bar revelers who come early and late for the queso dip with hatching chilies.
Kitty-corner to Lake Union, a great place for people-watching, Maria Sabina Mexican Restaurant and Bar runs Taco Tuesday with good asada, chorizo, and $2 brisket options. But check out its eclectic dinner menu featuring Oaxacan, Yucatan, and other regional dishes, including fried grasshoppers, mole enmoladas with brisket, and cochinita pibil with pork marinated in orange juice. . This bar has made a bold choice by focusing on mezcal drinks and not listing the popular margarita on the menu, although the bartender can offer you one.
Half a mile northeast of this, along Lake Union, is the aptly named Edge of the lake restaurant, offering five courses for $79 (plus a $39 wine pairing option), one of the cheapest prix fixe menus in Seattle.
Just east of the Olympic Sculpture Park is Seattle Pizzeria and Bar with its tandoori chicken and paneer tikka pies. Indian fusion pizzas have been a take-out hit in the South End and pockets of the Eastside.
Spicy Sichuan Stylelocated in Seattle's North Asian Family Market, offers quick takeout for its Hunan and Sichuan dishes.
West Seattleites, you'll have to wait another month or so when your two grand openings kick off: Driftwood, Alki's restaurant with views of Elliott Bay, will launch in late August while Chicago West Pizza Company delayed its opening due to water heater issues. In the meantime, three other spots are operational: joy of doughCapitol Hill's vegan donut shop, stretches to Junction and according to his social media postshares space with a disco-themed plant shop complete with disco ball planters, neon lights, and sparkly floors. Alki Pho & Bar and Tacos on fire opened on the beach, the latter was a hit in Kent before spreading north. Fire Tacos offers these trendy birria tacos with lamb, goat and beef stew.
Investors who hit a home run with the popular banh mi franchise Sizzle & Crunch launched the fried chicken chain call a chicken with branches in the University District and Chinatown International District. Call A Chicken is inspired by Kentucky Fried Chicken in China, which has a more eclectic menu than the buckets of chicken served at KFC in the United States. Call A Chicken also sells gizzards, whole fried chicken and wings in New Orleans.
Pipa Mountain Hot Pot in the international district of Chinatown caters to the big-ticket crowd with its offerings of marbled beef and other high-end slabs.
Good news for pop-up fans MixedaPasta: talented cook Megan Barone has found a permanent kitchen now that she is the executive chef of Ronette's psychedelic sock Jump in Frélard. Her biggest pop-up hits are served here, including her seven-layer lasagna, miso Caesar salad and, arguably her best dish, fresh pasta creste di galla with arugula and lemon pesto. It's the best vegetarian dish I've had this season, and at $13, one of the best values ​​in town. Ronette's is one of the few restaurants open on Mondays, even offering late night dining until midnight. You might also see her on stage at the bar. The chef is also a talented saxophonist. On a recent evening, she got ready in the kitchen, then rushed to do a set before rushing to the burners to cook some pasta.
At Phinney Ridge, Bow The restaurant and bar blends Latin American and Korean flavors with meatless plates such as kimchi fries with "jackfruit carnitas" and "stinging nettle rice" with bulgogi seasoned tofu. The Arc has a spacious lounge bar with a creative range of agave and tequila-based cocktails and mezcal with smoked curacao, pineapple juice, and sage bitters.
secret leave, who has gained a huge fan base by selling bowls from a commissioner's kitchen, finds a home in Ballard. The congee comes with eight topping options ranging from garlicky blue crab to meatballs.
Boca Argentina Bakery & Pizzeria on Broadway East serves 20 pastries, including dulce de leche-filled churros, as well as sandwiches, empanadas and its signature Buenos Aires-inspired pizzas with toppings such as blood sausage. Best value: his $11 deep dish of mozzarella fugazzetta that can feed two to three people and is loaded with caramelized onions and stretchy cheese balls. You will chew for a while.
Two doors down is the Chinese takeout Broadway Wok, which hosts lunch and dinner specials ($13.99 to $15.99).
Korn dog serves Korean-style corn dogs near Seattle Central College.
Noi thai food and based in Tacoma Toast Mi expand to Green Lake.
Pizza Pagliacci extends to the Shilshole area with a patio near the Ballard Locks.
Gyroscope SABABA opens in the Northgate area.
Umami Kushi runs a counter space inside the dining room of Métier Brewing Co. in the Central District, selling Japanese okazu pans or deep-fried buns stuffed with various fillings from chicken mole to beef curry.
Amazon workers have scored another dining option now that Hotel Astra in South Lake Union offers lunch service at Otium Grill & Greens with salads and sandwiches for $14 and less. The hotel's big announcement will come in August when it unveils its rooftop bar.
From the investors behind the waterfront restaurant Elliott's Oyster House comes the Italian restaurant Salt district on Pier 55 near the ferry dock. Eves, meatballs and burrata, are on offer if you don't want to delve into the heavier entrees of lamb ossobuco and porchetta.
On the coffee and boba side: Our international coffee scene expands with Ethiopian coffee Cafe Avole in the Central District, Vietnamese coffee Voi Ca Phe in Georgetown and the Brazilian coffee chain Kitanda in the downtown McKenzie Building. Other morning supplies: Cafe Canuc seat in the university district while Cafe Ladro adds another outpost to Hotel Astra. And tiger sugara popular boba chain, opens downtown.
News on the brunch front: Update July 23: Beth's Cafe is currently closed and not open as previously reported. And ARISTA Catering bought the old brunch that haunts the 5 points in Upper Queen Anne and should be reopening soon.