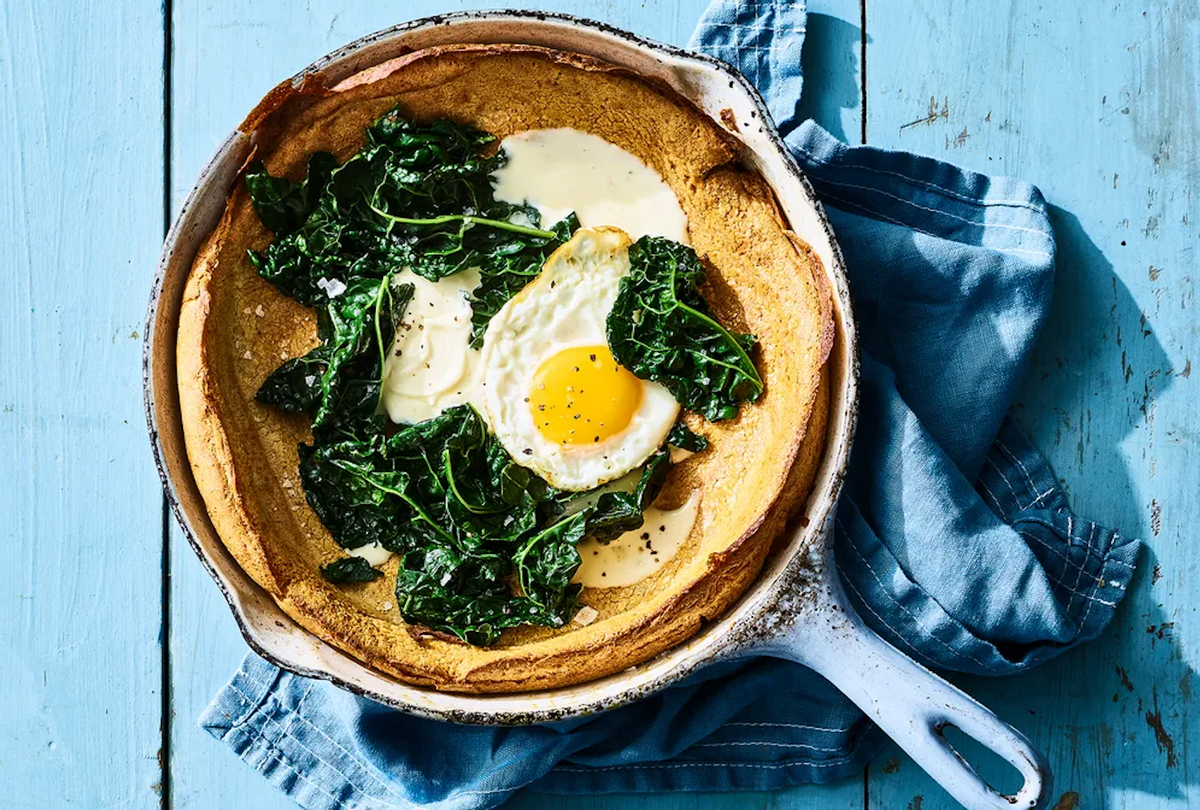 A pancake for when I'm too lazy to make pancakes
Great little recipe has the smallest ingredient list possible and everything in between: flavor, creativity, wow factor. That means five or less ingredients, not including water, salt, black pepper, and some fats (like oil and butter), because we're assuming you've got them covered. This month, we're sharing sneak peeks of the Big little recipes recipe book, everything is racing until its release on November 9 (he detonates the horn, throws confetti in the air).
* * *
The hardest part of buttermilk pancakes is standing in front of the stove. Dolloping, wait, return, wait, again, again, again. The good news is, if you skip a few ingredients, you can skip this step as well.
Today you won't need sugar, buttermilk, baking powder, or baking soda. In fact, you won't need all-purpose flour either. We make a 100% whole grain pancake – yes, just one – to feed two people. And it works just as well for a sleepy brunch as it is for a quick dinner.
You might recognize this recipe as a Dutch baby. It's also called Bismarck, German pancake and, my favorite, puff pastry. Inspired by German pfannkuchen, the Dutch baby as we know it "is commonly attributed to Manca's Cafe, a Seattle restaurant that existed at the turn of the 20th century," according to Eater. Similar to a popover or Yorkshire pudding, this pancake bakes instead of fries, bakes like weirdly thin dough, and comes out like – whoa.
Like a souffle, the dramatic pouf is all thanks to eggs. These make up the bulk of our flaky pancake, giving it structure, volume and flavor. And as a bonus: because we already use eggs in the batter, why not fry a few more and toss them as a hearty topping?
Many Dutch baby recipes turn to milk as a liquid. But replacing the crème fraîche brings some big advantages. Pungent and buttery, this ingredient adds depth and richness to the batter and, when diluted with a little water, acts much like milk. Another bonus: More crème fraîche becomes the world's most glorious pancake filling. (If you can't find it, sour cream makes a great liner.)
Because eggs and dairy already do a lot of the work, flour is not as important as in other baking recipes. This is a good thing. Because while doing an individual all-purpose swap for whole grains in, say, a pound cake wouldn't go well (don't), in a puff pancake, which needs such a small amount of flour, anything goes. This means that we can use all the rye flour and not have to dilute its nutty and malt taste.
To accompany the sunny eggs and creamy swirls on top, I like to sauté kale until it relaxes, becomes silky and supple. But no one puts the puff pastry in a corner. With a crispy brown butter crust and a soft, tender heart, it gets along with everyone. Substitute another sautéed vegetable for the kale, such as spinach, green onions or mushrooms. Or go rogue with bacon or prosciutto, or smoked salmon or trout.
The most important thing is that you do something fun while the pancake bakes for about twenty minutes. Tell me, what do you like? Are we going to put on some tunes and dance?
***
Recipe: Rye pancake with green vegetables and eggs
Preparation time: 10 minutes
cooking time: 30 minutes
Serves: 2
Ingredients
Puff pastry pancake
3 large eggs
1/4 cup (60 grams) sour cream
1/2 cup (65 grams) rye flour
1/2 teaspoon kosher salt
1/4 teaspoon freshly ground black pepper
2 tbsp unsalted butter
Fixings
1 tbsp unsalted butter
1 bunch of Tuscan kale, stems removed, leaves chopped
Kosher salt and freshly ground black pepper
2 large eggs
Fresh cream
Ingredients
Turn the oven on to 450 ° F and immediately insert a 9-inch or 10-inch cast iron skillet inside. Now work on the pancake batter. Combine the eggs, sour cream and 1⁄3 cup of water in a bowl and whisk until smooth. Add the flour, salt and pepper and whisk again.
Use oven mitts to transfer the pan to the stove over medium heat. Add the butter, stirring the pan for complete coverage. Once the butter has melted, whip the dough, then pour it into the mold. Turn off the heat and put the pan in the oven. Bake for 20 to 25 minutes, until the pancake has puffed up dramatically.
While the pancake is cooking, work on the greens. Melt 1/2 tablespoon of the butter in a large nonstick skillet over medium heat until it begins to brown, then add the kale and stir several times. Cover the pot and cook for 1 minute, until softened. Uncover, sprinkle with salt and pepper and cook for another 3 minutes, stirring occasionally, until tender. Taste and adjust the seasoning as needed, then transfer the greens to a bowl and lower the heat to medium-low.
Add the remaining ½ tablespoon of butter to the empty pan. Once this is melted, crack the eggs, sprinkle with salt and pepper and cover the pan. Cook, checking frequently, 2 to 3 minutes, until the whites are set but the yolks are still runny. Turn off the heat, uncover the pan and let the eggs hang down until the puff pastry is ready.
Serve the puff pastry pancake hot with the greens, eggs and spoonfuls of crème fraîche: you can arrange everything in the cast iron pan, or cut the pancake into pieces, transfer it to two plates and distribute the toppings.
Take a copy of the Big little recipes cookbook in our Shop, or a bunch of other places, like Amazon, Barnes & Noble, Books-A-Million, Librairie.org, Hudson Booksellers, IndieBound, Powell, Where Target.
This article contains products independently chosen (and loved) by our editors and editors. As an Amazon Associate and Skimlinks Affiliate, Food52 earns an affiliate commission on qualifying purchases of the products we are linked to.