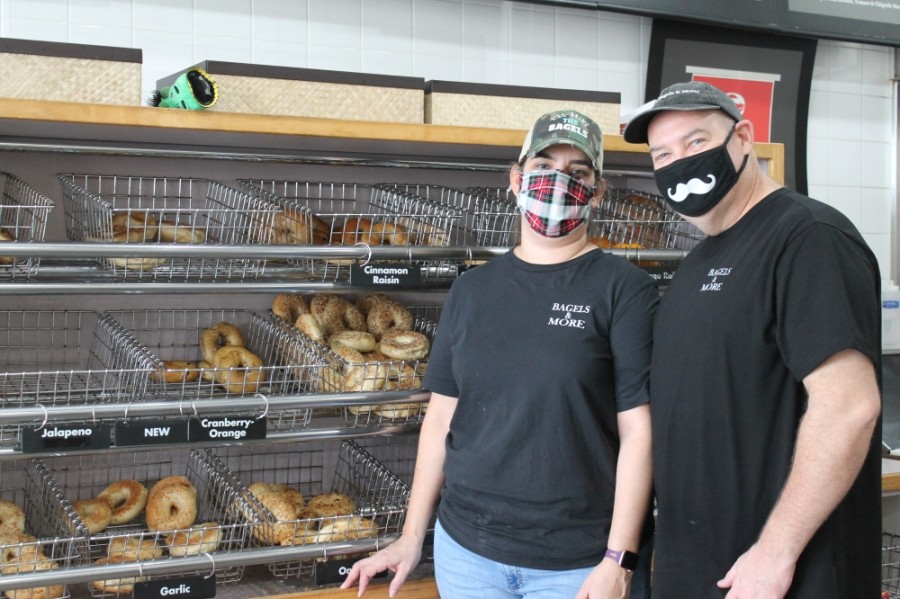 After 25 years in business, Abby's Bagels & More finds a new owner in the event of a pandemic
Erin and Mary Stapleton reopened Abby's Bagels & More, formerly Abby's Cafe and Bakery, on FM 1960 in February 2020 (Andy Li / Community Impact Newspaper)
While 2020 has been a tough year for all businesses, it's been an even tougher year to jumpstart a local business, said Erin and Mary Stapleton, owners of Abby's Bagels & More.
The Stapletons bought the restaurant, which opened in 1995 and was called Abby's Cafe and Bakery, in December 2019 and reopened it on February 10, 2020, just before the coronavirus pandemic forced many businesses to close in March 2020.
The previous owner classified the cafe as 'permanently closed' in December, so Mary said she and her husband still find repeat customers who were unaware the business had reopened.
"People just don't know we're here," she said. "But once they come in and find us, they love us."
Throughout the pandemic, Erin said it has been incredibly difficult to stay open. He said the bakery relies heavily on event catering and does not qualify for the US Small Business Administration's paycheck protection program.
Despite the tension, he said rooting in the community has been rewarding, from delivering bagels to local distilleries making hand sanitizer to knowing each customer's specific order. Abby's Bagels specializes in New York-style bagels with crispy exteriors and chewy interiors.
"We're the best kept secret in this area for sure," Erin said. "So people are rediscovering us even though we are in a new phase of baking. "
Mary and Erin said they hope 2021 will provide much-needed relief, allowing them to become even more profitable and integrated into the community.
"We are not looking to get rich. No one will get really rich by owning a restaurant, "said Erin. "But to have this richness of community? It has been the most rewarding part so far.
Abby's bagels and more
4443 FM 1960, Houston
281-580-8500
www.abbysbagels.com
Hours: Tue-Fri. 7 am-1pm, Sat-Sun 8 am-1pm, closed Mon.