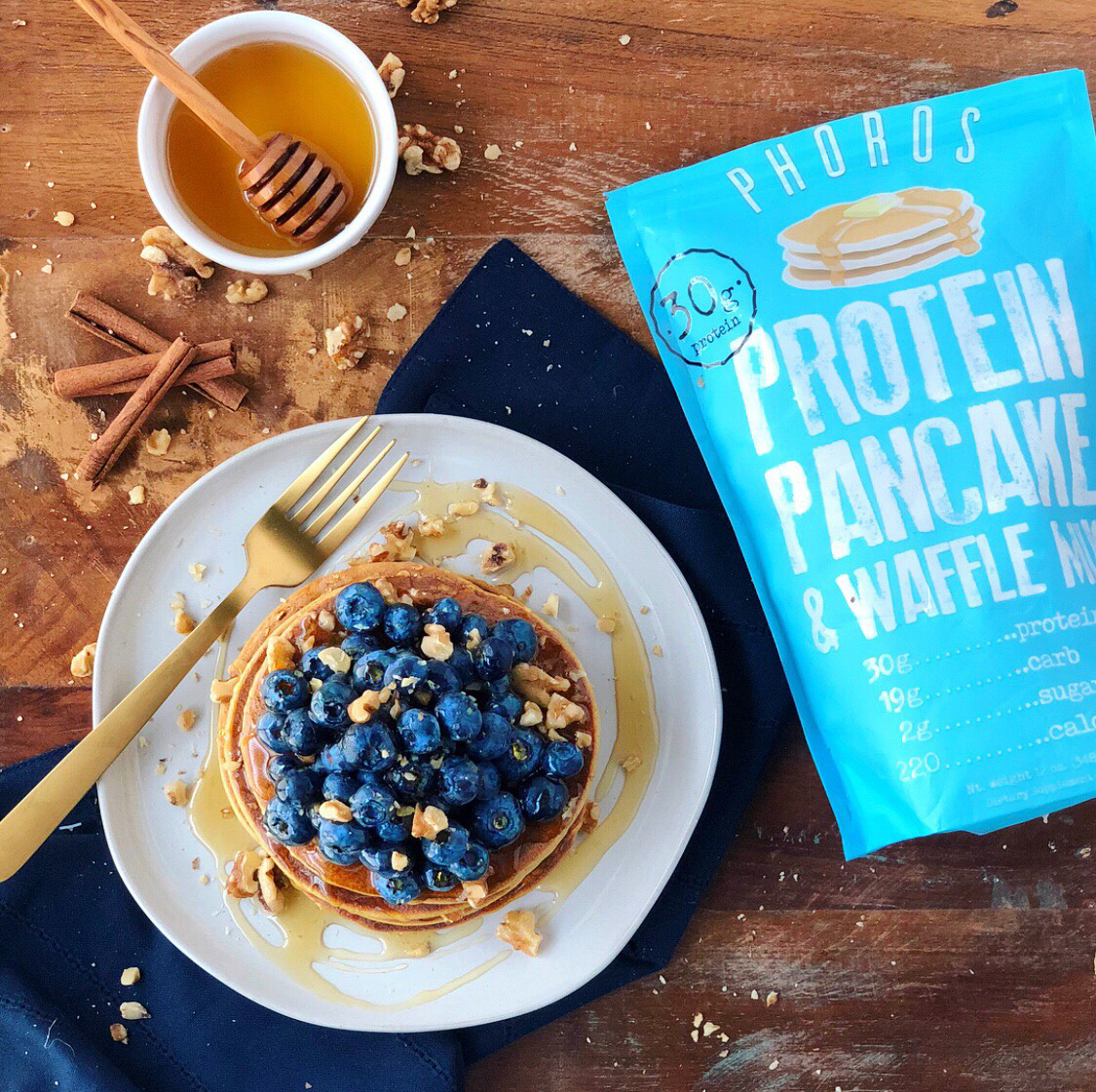 Alumni startup brews high protein pancake mix
Marcel Salapa was fed up with eating egg whites to get the protein he needed to maintain muscle mass for bodybuilding.
That's why Salapa, a 2018 UCLA graduate, decided to make her own protein pancake mix while in college. Salapa set up his company, Phoros Nutrition, so that people can still eat pancakes, which he says are a typical high calorie and unhealthy breakfast, but eat less carbohydrates than in regular pancakes while consuming 31 grams of protein per serving.
"We want to be the premier breakfast solution for workout enthusiasts," said Salapa.
This is not Salapa's first business. In high school, he started a clothing brand and designed custom shirts, which he sold to his classmates. Salapa said he didn't make a lot of money from the project, but he didn't get discouraged.
In college, Salopa launched Nude Cases, in which he ordered wholesale-made phone cases and branded them. Even though Salapa eventually sold the business, he said experience taught him that he couldn't take it for granted that people would just buy his products.
Salapa started Phoros in her third year in college selling her pancake mix in her gym. Over time, Phoros was able to expand to a larger consumer group and Salapa hired Spencer Smith, his best friend, to be Phoros' COO.
Smith, a UC Santa Barbara alumnus, said he and Salapa used UCLA's startup accelerator to grow their business. Smith said the accelerator has helped Phoros with its marketing and customer acquisition strategies.
"It provided us with a workspace… and it helped us develop our strategy and our network," said Smith.
The UCLA Startup Accelerator brings in past or current entrepreneurs, mostly UCLA alumni, once or twice a week. Tours allow Accelerator companies to learn from other people's experience and networks. Salapa and Smith were able to get in touch with some of the mentors and ask for business advice.
Smith said that one of the things he and Salapa achieved while growing as a business was that they were targeting the wrong audience with the Phoros brand. The original packaging was all black with an illustration of a man flexing his bicep.
"A lot of our comments were from women," Smith said. "We realized that the original packaging was more a reflection of us at the time of creation – the guys from college."
Smith said the way to learn to manage and grow a business is through practice.
"The best way to learn is to start," he said. "The growth of a business is directly linked to the work you put into it. "
Phoros Nutrition will launch its new brand image the week of September 10.
Several students said they would try the pancakes because of their supposed nutritional value.
Julia Nakamura, a third year psychobiology student and avid runner, currently eats a granola bar for breakfast. Nakamura said she would definitely try the pancakes because they are high in protein.
"The average runner needs 100 grams of protein a day and it's really hard to get it," Nakamura said.
Hannah Feller, a second-year rising public affairs student, eats a variety of breakfast foods, including avocado toast, bagels, yogurt and cereal. Feller said she would try the pancakes because they seem to be higher in nutritional value than her normal breakfasts.
"It's often difficult to find breakfast foods that are tasty and have nutritional value, so having pancakes that taste really good and have certain benefits as well is a great combination," said Feller. "My current breakfasts certainly don't contain as much protein and low in carbohydrates and so this new type of pancake would definitely benefit me nutritionally."
Smith said he thinks Phoros Nutrition is particularly convenient for students who have access to a kitchen, because pancakes are simple to prepare while being high in nutritional value.
Salapa said her advice to all students who want to start their own business is to get started as early as possible.
"Start earlier and know that you're probably going to fail a lot," Salapa said. "The sooner you start to make mistakes, the faster you will start to learn and grow. "