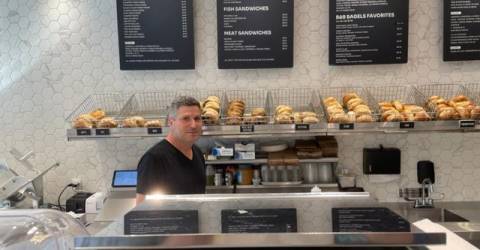 At B&B Bagels, where there are no shortcuts
For nearly a year, the place that was one of New York's first Bareburgers, on the corner of First Avenue and 73rd Street, sat empty. Where once buzzed with a bustling, wood-panelled burger joint offering large patties and fries, now there was a closed, green-paneled storefront. Now, B&B Bagels takes its place and the neighborhood is teeming again.
"Great bagels," said more than one customer when the store opened in mid-May. "Great to have in the area," others said as they sat outside on warm spring days.
For Avi Bador, the genius native of Israel who owns the shop with his wife Rachel Benavi, the choice to open his shop was simple. "The site became available, and I had a good feeling that it was going to work here," he said recently in the early evening. "And I took it."
Since then, the store has been packed. A morning walk on the weekend reveals the store bustling with New Yorkers in search of a good bagel, a long line leading from the entrance to the window displaying eighteen different kinds of cream cheese. On top of the crate, above the heads of Marcello the Sandwich Man and Naama the Barista, rest the bagels. Fifteen varieties of them.
"It's not a shortcut," Bador says of what makes a quality bagel. "You make it like the real New York, Brooklyn bagel. Hand drawn, with all the ingredients. No shortcut. You do it with the recipe and do it the right way – no shortcuts, don't save on ingredients and materials… You can't save on materials; you have to put everything.
Favorable reviews
Bador's bagels are baked on-site at 5 a.m. daily, and by the time the shop opens at 6 a.m., they arrive hot and fresh. Coming in varieties such as all plain and all whole wheat, bagels sit next to bialys and have received favorable reviews.
On a recent visit, an older customer even said something like, "This is one of the best bagels I've ever had," while on another Saturday afternoon, two young men devoured their eggs and cheeses before starting their day.
"It had a nice crunch on the outside and was very soft on the inside," writes reviewer Marianne W. of her bagel on Yelp. Another Yelp reviewer named Steph W. writes that hers was "dense, fluffy, yet soft." The seasonings, she continues, "had the perfect amount of salt" and she comments, "I would say the bagel tastes good."
As with a pickle or a pastrami sandwich, it can be difficult to spot a quality bagel and not everyone will agree on what is substantial and what is not. However, as its three and a half out of five stars on Yelp and lively tables indicate, B&B Bagels appeals to most customers and succeeds on that front.
"It's all about the bagels," the shop's tagline goes, and Bador means it. "I've been doing this since I was fifteen," he says. "I started working in a bakery. I am forty-eight today…Israel is different. Israel doesn't have bagels. And I came here," he continues, mentioning that he moved to New York twenty years ago and operated a bagel with his brother in Murray Hill for several years.
"You have to be here"
The sensible owner doesn't work alone, however. The other B in B&B stands for Benavi, the surname of his wife, Rachel. Like her, Bador works at the store every day and often prepares the sandwiches himself. Together, the couple works twelve hours a day and works for the success of their shop.
"You have to be here every day," Bador said. "You have to check, to see that everything is fresh, everything is clean, everything is as it should be." In his black shirt and skinny jeans, cell phone often in hand, Bador is in many ways the modern, busy café owner. His warmth, however, the times he throws in an extra bagel or offers a free muffin, is what sets him apart as owner and earns the admiration of his staff.
"Avi's there," Karen, the counter girl, said one afternoon a few weeks ago when Bador walked into the store. "Avi's here," she repeated as he put bags behind the checkout. Bador returned with a smile, apparently satisfied with the success of his coffee.
"Those are good results," he says, knowing that his outdoor tables are packed with customers most weekday mornings. "I see the reaction of people. It's a good comeback. Yes, very good comments.
Still, Bador is not done. "It takes time to build," he says. "It's not where I want it yet, but it will be. I have a long process. Of course, I want it to be busier, more stuff. We are currently working on a catering menu. Many things. And I plan to open more places.
At the end of the day, in addition to serving some of the tastiest coffees in the neighborhood, he wants customers to "get the best experience when it comes to good customer service, good product, fresh, tasty, to sit in a place with air conditioning in a good environment.
With the bagels baking and the coffee flowing, Bador and Benavi, and their friendly and refreshing staff, are ready to stay in town for a while.