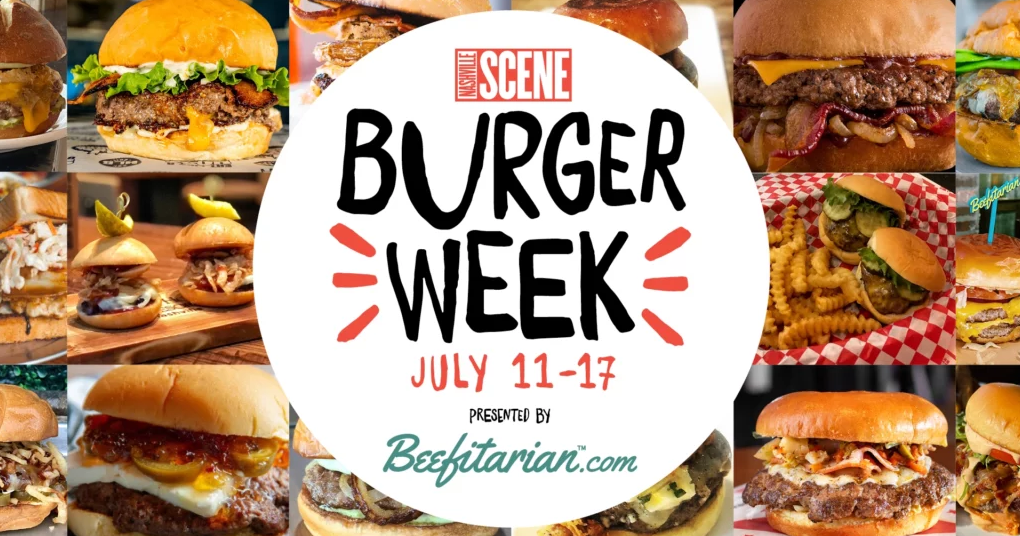 Burger Week Returns This Month | Bites
The events team here at Stage hosted another Burger Week from July 11-17, and it looks like it's going to be a whopper. Know that it looks way better than a Whopper, with nearly 50 restaurants competing for your vote to see who reigns supreme as Nashville's burgermeister.
You know the drill: a selection of local bars and restaurants will feature a special burger for just $7, and all you have to do to enter is order it, eat it, and vote for your favorite. In addition to bragging rights, the winning restaurant will receive a golden ticket to participate in the 2023 World Food Championships.
As always, be patient as restaurants may run out of food. Be sure to order something else and tip like a baller, because these competitors are giving you a lot to be part of Burger Week.
To help you plan your meal and eat your plan, we've put together a list of attendees and their burger offerings. While it's impossible to faithfully recommend one restaurant over another without still eating their offerings, here are a dozen intriguing options that immediately struck me:
It's always a risk trying to apply the "Nashville Hot" label to something that isn't chicken, but I trust Germantown Pub can do just that with their spicy burger topped with jalapeño sauce, pico de gallo and pepper jack cheese topped with a fried jalapeño pepper. Ask for extra water!
This downtown hotel literally elevates its offering with a Rooftop Burger made with premium ingredients like two 4-ounce short rib patties with red onion jam, smoked pecan bacon, Cypress Grove melted cheese Humboldt Fog, shallots fried in buttermilk between butter toasted brioche bread. You had me at Humboldt Fog, but you killed me with the addition of duck fat fries.
There are obviously Red Hot Chili Peppers fans in Wilco's kitchen, as their Dani California Burger looks like a real headbanger. Promising a mix of the chef and owner's Venezuelan and Chilean backgrounds, this burger is topped with homemade mango habanero jam, spring mix, tomatoes, white cheddar cheese, charred raisins, roasted red onions and avocado mayonnaise, topped with Southern candied bacon. They won't have to "give it away".
I love how this South Nashville favorite seizes the season and honors its own name by topping its burger with jalapeño peach chutney, maple wood bacon, homemade chili cheese, lettuce and tomato. before serving it on a Kaiser bun.
With their Ultimate Breakfast Benedict Burger, ABE Cafe is expanding your window of meal options to try a 33% Burger Week deal. It's a burger patty topped with smoked ham and bacon, an over-medium egg, jalapeño-infused Hollandaise sauce, scallions, and paprika. Uh… yes, please!
Speaking of options, you can always count on Graze to provide delicious vegetarian alternatives to traditional dishes. Their totally misnamed BBQ Bacon Burger includes a homemade veggie patty, melted cheese, seitan bacon and bourbon barbecue sauce. It's so crazy, it just might work!
Brown's serves up the quintessential burger in town, and I've been a lifelong fan (especially since I live a block away). I have to wonder what will be different about this particular burger since $7 is a pretty substantial increase over their regular price. Maybe it helps pay for that badass new deck they built up front. I agree with that.
Additional credit creativity points for The Horn, the Murfreesboro Pk. Somali cafe, for their starter Cheeseburger Sambusa! Spicy beef and chipotle mayonnaise nestled inside puff pastry is something I would make this drive for.
Sometimes it's good to "prepare" a humble burger, and with the City Winery Burger, the cuisine really comes into its own. Made from their own signature blend of house beef, the patty is topped with red wine braised onions, herb and garlic aioli, brie, lemon arugula and pickles on a brioche bun. They say it pairs well with their Reserve Cabernet Sauvignon, and I'm going to trust them on that one.
This Midtown stalwart is the first clubhouse leader for Best Picture, because his Urban Cowboy Burger is so sexy! Take a wagyu patty and top it with Coca-Cola BBQ beef brisket, bibb lettuce, dill pickles, crispy fried onion strings, western aioli and just hand them the cursed Oscar.
In case you didn't know, JWB stands for James William Buffett, so there's a bit of added pressure for the Margaritaville Hotel cheeseburger to be heavenly. They rose to the challenge with a JWB Smash Burger made with black angus beef and the expected special sauce, lettuce, cheese on a potato bun. Kudos to the national chain for sourcing Gifford's local bacon, a choice also wisely made by Nashville Jam Co. and The Pharmacy Burger Parlor & Beer Garden.
This last entry intrigues me for several reasons. First of all, Little Blue Menu isn't even really a restaurant per se. (It's definitely not like Per Se!) This is actually a new experimental delivery concept from Chick-Fil-A from their delivery-only facility on Church St. Nashville is the first test market with an upcoming Maryland expansion. Little Blue Menu's Simple Bacon Cheeseburger features a never-frozen ground beef patty, thick bacon, aged cheddar cheese, romaine lettuce, tomatoes, kosher dill pickles and arctic fox sauce . Which brings me to the second intriguing question: what part of the arctic fox did they make the sauce from?