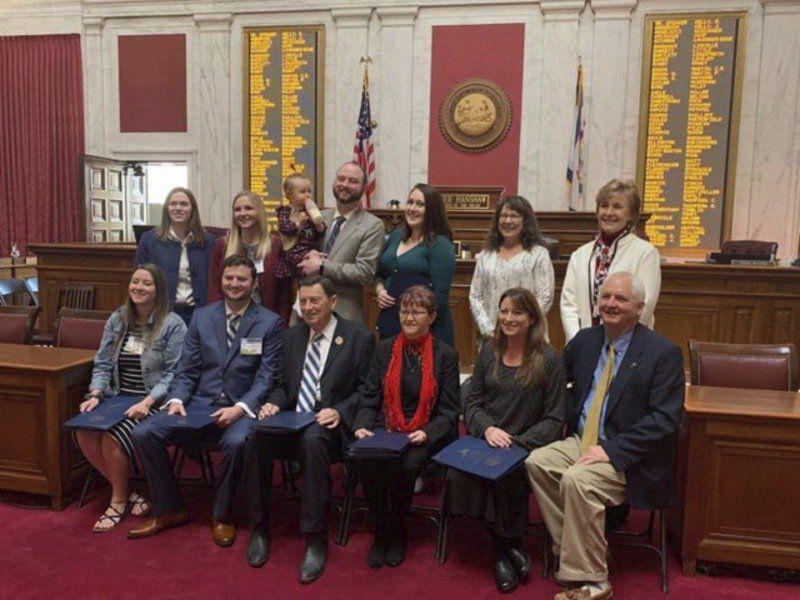 C. William Pancake named Mineral Personality of the Year | Local News
KEYSER, West Virginia – C. William "Bill" Pancake Jr. was honored as Person of the Year at Mineral County Days, when a delegation of 48 Mineral Countians traveled to Charleston for the opening. of the West Virginia Legislative Session.
"An always exciting and special event was to recognize this year's winner, Bill Pancake, for a lifetime of achievement in aviation, drawing a lot of attention to Mineral County in the process," said Randy Crane, chairman of the Mineral County Chamber of Commerce.
"Aviation involves all the things that interest me, such as electronics, meteorology, navigating the world, machining parts, welding, woodworking, sheet metal working, freedom. flight and many other things, "Pancake said.
Pancake said his best memory was playing solo with his grandsons on their 16th birthday from Miller Field to Keyser.
"Miller Field is the same airport that I played solo from on my 16th birthday on February 9, 1956," he said.
"I also love helping my two other grandchildren, Robert Boggs, with his car restorations and his granddaughter, Hannah Boggs, learn to fly in the near future," he said.
Pancake turns 80 on February 9 and has been flying for 64 years, his wife, Saundra Pancake said.
The distinctions in Charleston began with the reading by the Clerk of the House of Delegates of a proclamation from Del. Ruth Rowan, followed by letters from Governor Jim Justice and US Representative David B. McKinley, Crane said.
"Then everyone went to the Senate, where Senators Randy Smith and Dave Sypolt read a 'resolution for Bill Pancake'."
Anna Engle, who represents US Senator Joe Manchin, read a letter from the Senator. Curtiss Boggs, who worked in US Senator Shelley Moore Capito's office and is a family member of Bill Pancake, read a letter from Capito.
Pancake knew he wanted to fly from a young age, Saundra Pancake said.
In the early 1950s, he would cycle to Keyser Airport to earn pocket money by mowing the grass, washing planes and sweeping the hangar floor, his wife wrote in the biography of Pancake.
He passed his written private pilot examination in 1957 with a score of 100%.
In the summer of 1956, Keyser Airport closed and the land was sold for residential development. That summer, Pancake was hired by Bill Holbrook at Cumberland Airport.
"As fall and the start of the school year approached, Bill was able to find employment with Baker's Airpark and Aeronca Sales and Service in Burlington. Burlington was only 12 miles from Keyser, a shorter driving distance than 20 miles from Cumberland, "Saundra Pancake said.
In 1960, Bill went to work for West Virginia Pulp and Paper Co. as an electronics technician and retired in 2002 with 42 and a half years of service.
"Even though Bill was employed at Westvaco, his love of airplanes, catering and working on engines was still part of what he always wanted to do," said Saundra Pancake.
Pancake then opened Pancake Aviation, an aircraft restoration workshop.
"Word quickly spread that Bill Pancake was back in the airplane business," Saundra Pancake said. "What started out as a side activity has grown into a very successful business.
"Today, he spends most of his time helping members of the aviation community solve their aircraft problems," said Saundra Pancake. "Every day, on average, he receives 10 or more phone calls and over 20 emails from all over the world, including Russia, Chile, Brazil, Canada and many of the 50 states to come to West Virginia. to see his shop and meet him. "
Bill Pancake was one of 13 award-winning aircraft, honors won at the annual Experimental Aircraft Association airshow held in Oshkosh, Wisconsin.
Some of the winners were restored by Pancake, a few owned by him and one he built himself, from scratch – a 1998-1946 Sweitzer glider, which won the Grand Champion and other awards.
Pancake received the two highest awards from the Federal Aviation Administration in 2006.
He won the Charles Taylor Master Mechanic Award for being an aircraft mechanic for 50 years without committing an offense or violation. Charles Taylor was the Wright Brothers' mechanic and built the engine they used for their first flight.
The second was the Wright Brothers Master Pilot Award for having been a pilot for 50 years and also not having had any accidents or infractions.
Bill Pancake was one of 40 people in the United States and the only West Virginia to receive both awards, said Saundra Pancake.
In 2014, Pancake was among the first group of inductees to the West Virginia Aviation Hall of Fame. The other inductees were General Chuck Yeager, Captain Jon McBride (NASA astronaut) and General J. Kemp McLaughlin (B-17 pilot during WWII).
"Bill and I were responsible for creating the WV Aviation Hall of Fame," Saundra Pancake said. "We started working on the idea in 2010 when we found out that West Virginia was one of 14 states that did not have an Aviation Hall of Fame."
"Bill flew to the state of West Virginia for its oak wilting program and to the West Virginia DNR which was conducting forest patrols. During the 1985 floods, Bill was involved in numerous search and rescue missions around the state and also for local media, "Saundra Pancake said.
Today, Pancake writes, hosts forums, is a weather watcher, and teaches.