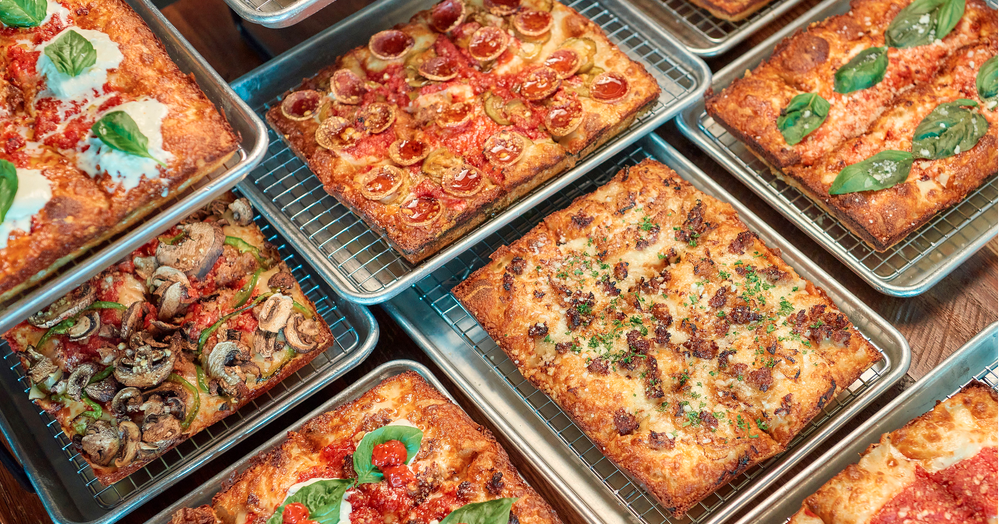 Emmy Squared will open by the end of the month on East Side | Bites
Emmy Squared Pizza will open by the end of the month in the most recently occupied New York-style Shep's Delicatessen space in East Nashville's Five Points, according to a statement.
The announcement comes weeks after Shep's ownership announced the closure of the Jewish grocery store after only about 15 months of operations at 1000 Main St. A statement at the time suggested a move from Shep's was being considered.
Now with 16 locations, Emmy Squared Pizza – which focuses on Detroit-style pizza – has a presence in New York, Washington, DC, Philadelphia, Atlanta, Louisville and Charlotte. Locally, the concept is present in the Gulch, Germantown and Green Hills.
Detroit-style pizza is characterized by a square shape, crispy bottom, chewy crust, cheesy "frico" crust, and sauce stripes.
Howard Greenstone is general manager of Emmy Squared Pizza, which also offers burgers, salads, plant-based meatballs, a turkey burger, appetizers, cocktails, wine and beer. He says the East Side outpost will operate from approximately 2,500 square feet of dining space with 65 seats and feature menu items and offerings celebrating the neighborhood.
"We are inspired by the thriving spirit of the East Nashville community and look forward to introducing unique dining offerings and experiences to complement the neighborhood's vibrant dining scene as we continue to create employment opportunities at Nashville," Greenstone said in the statement.
Emmy Squared Pizza's impending opening comes about nine months after Charlotte-based Crosland Southeast put the building up for sale in September 2021. Shep's replaced Artisan Foods Market in the space.
Greenstone, Ken Levitan and Pennington Pribbenow own Shep's, which offered pastrami, corned beef, minced liver and traditional egg custards. Greenstone and Pribbenow have worked together at Red Pebbles Hospitality, the parent company of (in addition to Emmy Squared) Adele's, 404 Kitchen, Bajo Sexto, The Nashville Sundae Club, Gertie's Bar, Ella's on 2nd, Lala's Pool Bar, and Sadie's.
This article first appeared via our sister publication, the Nashville Post.