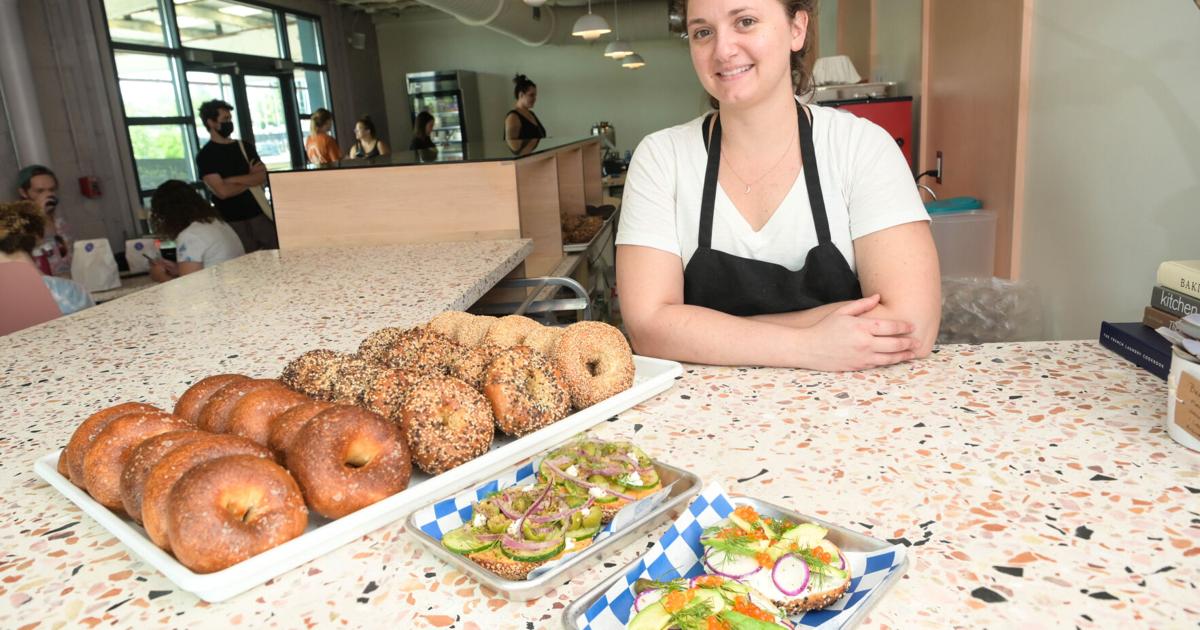 Flour Moon Bagels serves homemade bagels and bagels on the Lafitte Greenway | Food and drink | Weekly Gambit
Moon phases occur every 29 days. What starts out as full – which is called the Flower Moon in May – becomes gibbous, about three-quarters full, then half, then a ribbon that just about disappears.
Flour Moon Bagels' name was inspired by the start of the cycle when Breanne Kostyk launched her bagel business in earnest in May 2021.
Flour Moon Bagels opened its brick-and-mortar location at 457 N. Dorgenois St. on June 4. It is on the Lafitte Greenway between HEY Coffee Co. and the soon to be opened Skeeta Hawk Brewing. Flour Moon is already killing it, with bagels flying out the door with 100 egg bagel sandwiches for breakfast on a recent weekend morning.
"Opening it felt so natural," Kostyk says. "I thought I would be really nervous and didn't know what I was doing, but it's getting better and better."
The 35-year-old self-taught baker started rolling bagels at home three weeks after undergoing a double mastectomy following a diagnosis of breast cancer. "I was recovering and bored," she says. It was also at the height of the pandemic, so she was really stuck sheltering — and cooking — in place.
In her former job as a pastry chef at the Ace Hotel, Kostyk had played with bagels and received rave reviews from guests.
Kostyk met his business and life partner Jeff Hinson in 2019. The couple noticed the empty space by HEY because they were regulars who lived nearby. Kostyk thought this would make a great bagel shop. Hinson wasn't sure they could afford it, but the owner lobbied to make it happen. "The neighborhood was short on bagels," she told them. This strip of Mid-City and Bayou St. John is home to more than 36,000 residents, notes Hinson, who has a background in marketing.
What makes an exceptional bagel comes down to the technique, which includes boiling and the quality of the ingredients, says Kostyk. She proofs the dough overnight for best flavor, uses high-gluten King Arthur flour and generous amounts of toppings. "I was literally weighing the seeds to make sure there was enough per bagel," she says.
Bagels are solid, from sea salt (which Kostyk calls "our plain") to rosemary salt, everything, sesame and poppy seeds. On Fridays there is also onion bialy with caraway seeds. Schmear options include plain cream cheese and green onions. with fancy butter.
The two most popular dishes on the menu are the breakfast sandwich and the Full Moon sandwich. The sandwich is topped with a folded egg, American and muenster cheeses and a crispy chili mayonnaise, with options to add bacon, house sausage or avocado. The Full Moon includes smoked salmon, cream cheese, cucumber, red onion, capers and fresh herbs.
Also under the toast, which are open-faced sandwiches, is New Moon, covered in scallion cream cheese and sprinkled with shiny salmon roe that brings out the salty goodness in every bite, plus the avocado. , sliced ​​radishes and herbs. A Harvest Moon is a vegan option topped with a spread of roasted carrots, tahini, cucumber red onions, Castelvetrano olives, herbs and the homemade herb and nut duqqa topping . The Fortuna is topped with tonnato, heirloom tomatoes, and a drizzle of olive oil and fresh herbs.
Kostyk credits his staff for keeping things running smoothly. She was hired by a chef who took a chance, so Kostyk now wants to provide opportunities for others new to the industry.
"Everyone is fantastic," she says. "I hired quite a few people who had no restaurant experience. One of my bakers hasn't been professional for a long time, but she knows how to roll bagels.
Flour Moon is a lovely space, with a large open patio and a color scheme Kostyk calls twilight. "We wanted the pinks, oranges and purples you see when the moon is just starting to rise," she says.
She also plans to add Brooklyn kosher fish salads, batch and frozen cocktails and, in the not-too-distant future, another location that may include a curator.
Although they sell HEY filter coffee and cold brew, Kostyk says Flour Moon is not a coffee.
"Most of our customers get their cappuccino from HEY and then come to us," she says. "We can barely keep up with the bagels."
457 Dorgenois Street N.
Breakfast and lunch from Thursday to Monday
On site, to take away
After having worked in the best New York kitchens, including eight years at Chef Eric Ripert's Bernardin and as executive chef at Marcus Samuelsson…