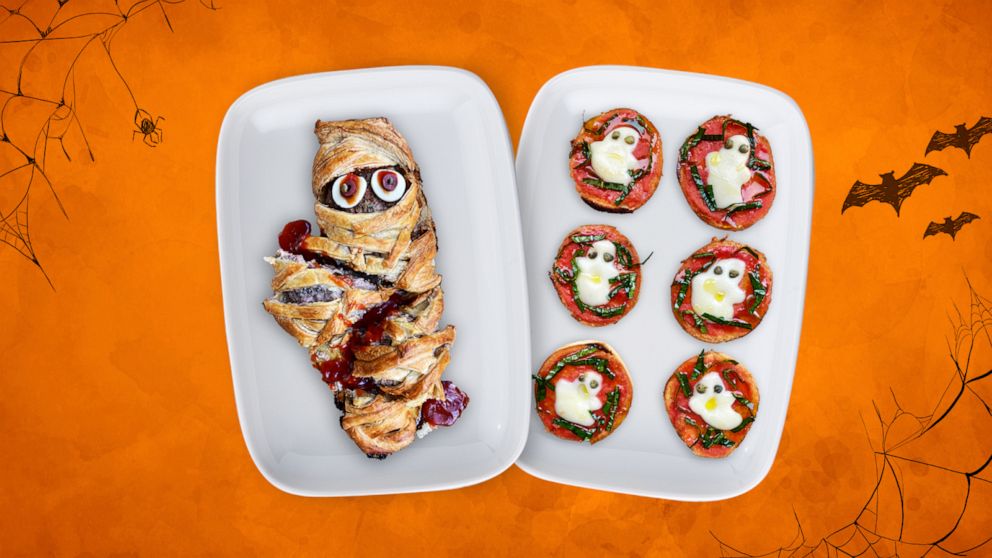 Ghost Bagel Pizza Bites & Easier, Fun Halloween Treat Recipes
If you're looking for a terrifically fun dish to celebrate Halloween, look no further.
Chef Jackie Rothong cooks fun and spooky dishes for "GMA", from pizza bites to ghost bagels with mummified meatloaf and more.
Read on to get her full recipes below and enjoy! Happy Halloween!
Ghost Bagel Pizza Bites
Preparation time: 5 minutes
Cooking time: 10 minutes
Ingredients:
3 mini bagels, halved
¼ cup olive oil, divided
1 garlic clove, peeled
½ cup of Pomi tomatoes, drained tomatoes
8 oz low moisture mozzarella, sliced ​​into ¼ "thick slices
¼ cup basil (chiffonade)
2 capers
Kosher salt and freshly ground black pepper (to taste)
Instructions:
Preheat the oven to broil.
Place bagel halves, cut side up, on half a sheet. Drizzle each with 2 tablespoons of olive oil. Grill for 2 minutes until toasted. Remove from oven, sprinkle with salt and rub each bagel with the garlic clove. Divide ½ cup of the drained tomatoes between each bagel half. Using a cookie cutter, cut Halloween shapes from the mozzarella. I am using a ghost cookie cutter! Place the mozzarella in the center of the bagels, covering the center hole.
Grill for 2-3 minutes until heated through and mozzarella begins to melt. Meanwhile, mix the remaining 2 tablespoons of olive oil and the sliced ​​basil. Season with salt and set aside. Remove the bagels from the oven, sprinkle the basil paste around the ghost of mozzarella. Place 2 capers on each ghost in place of the eyes and grab a big bite of the ghost bagel!
Mummified Meatloaf
For 6-8 people
Preparation time: 15 minutes
Cooking time: 45 minutes
Ingredients:
1 cup fresh breadcrumbs, cut into ¼ "cubes, toasted
1 head of garlic, 1/3 top removed, sliced ​​across the equator
3 tablespoons olive oil, divided
2 shallots, peeled, finely chopped
1 tablespoon fresh oregano, leaves only
¼ cup fresh parsley, roughly chopped
½ cup whole milk
½ lb of ground beef
½ lb ground veal
½ lb ground pork
½ cup freshly grated Parmigiano Reggiano
2 pieces of puff pastry, lightly spread, cut into 1/2 "strands
1 egg plus 1 tablespoon water, whipped
6 low moisture mozzarella slices, divided (1 slice cut into 2 rings for the eyes)
1 black olive, cut into slices
2 capers
Kosher salt and freshly ground black pepper, to taste
For the bloody icing:
1 cup of ketchup
1 tablespoon of spicy brown mustard
2 tablespoons of light brown sugar
1 tablespoon of Worcestershire sauce
1 tablespoon of apple cider vinegar
1 tablespoon of hot sauce
instructions:
Preheat the oven to 350 degrees Fahrenheit. In a 1/4 sheet tray, add the cubed bread, toast in the oven for 5 minutes, remove and let cool. Add the head of sliced ​​garlic to the foil package, drizzle with 1 tablespoon of olive oil, season with salt, seal the package and place in the oven for 45 minutes. Take out of the oven, let cool. Increase the oven temperature to 375 degrees Fahrenheit.
Meanwhile, in a small sauté pan over medium heat, add the remaining 2 tablespoons of olive oil. Once sparkling, add shallots, cook until translucent, about 2-3 minutes. Remove from the heat, stir in the chopped herbs, let cool.
Add cooled toasted breadcrumbs to 1 cup of milk, soak for 5 minutes.
In a large bowl, add the beef, veal and pork. Squeeze excess milk from the bread and add the bread to the meat mixture. Add the Parmigiano, the cooled shallot / herb mixture and squeeze the roasted garlic. Season the mixture with S&P. Using your hands or a spatula, stir until well blended.
Add strips of puff pastry horizontally from top to bottom in a ½ sheet tray. In the center of the puff pastry, add half of the meat mixture, creating a mummy shape. Start with the head, then the shoulders, then slim the feet. Then, spread the mozzarella strips in the center of the meat mixture. Use the remaining meat to cover the mozzarella to seal. Carefully lay out the puff pastry strips from all angles, creating the "mummified" look, leaving room for the eyes at head level. Brush the puff pastry with the egg wash. Bake 50-55 minutes until golden brown and cooked through. Remove from the oven. Place mozzarella slices as eyes, add an "X" of bloody icing to the eye, add a slice of olive and capers in the center of the olive for each eye. Cut it into chunks and get that piece of mummified cheese!
Bloody Icing:
In a medium saucepan over medium heat, add the ketchup, mustard, sugar, Worcestershire, apple cider vinegar and hot sauce. Bring to a boil, cook for 5 minutes and remove from heat. Drizzle with sliced ​​mummified meatloaf.
Dunk-a-Boo Cemetery
For 10-12 people
Preparation time: 10 minutes
Cooking time: 15 minutes
Ingredients:
For the grass:
1 cup of whipped cream cheese
1 cup of whipped topping
1 can (15 ounces) yellow cake mix
Green food coloring
For dirt:
1 cup of whipped cream cheese
1 cup of whipped topping
1 can (15 ounces) chocolate cake mix
10 chocolate cookies filled with cream, cream removed, cookies crumbled
Tombstone Sugar Cookies, for dipping
Gravestone cookies
1 package store-bought sugar cookie dough, rolled out, cut into headstones
Black royal icing, to garnish
Toppings:
Black candy spiders
Bone candy
Halloween spooky candy
Instructions:
In a large dish, add whipped cream cheese, whipped topping and yellow cake mix. Using an electric hand mixer, whisk until smooth. Add a few drops of green food coloring and stir until the color of grass. Place in a pastry bag with a star. Put aside.
To a large, add whipped cream cheese, whipped topping and chocolate cake mix. Using an electric hand mixer, whisk until smooth. Place the "dirt" in the base of the serving dish. Sprinkle crushed cookies along the top. Pipe grass plunges into the earth, creating the appearance of a graveyard.
Preheat the oven to 350 degrees Fahrenheit. Roll out cookie dough to 1/2 inch thick. Using a tombstone cookie cutter, cut out cookies. Bake for 10-12 minutes until set. Take out of the oven and let cool. Pipe "RIP" through each gravestone and let the frosting sit for about 10 minutes. Place the cemetery cookies in the grass.
Bob for apple heads
Preparation time: 10 minutesCooking time: 1 hour and 30 minutes
Ingredients:
4 apples (peeled, seeded, halved and cut into scary faces)
1 liter of apple cider
½ cup of fresh lemon juice
½ cup of fresh orange juice
cloves, for the eyes
Club soda, to taste
Cinnamon sticks
instructionsPreheat the oven to 250 degrees Fahrenheit. Add the prepared apples to a baking sheet fitted with a wire rack. Leave to dry in the oven until the apples begin to brown for 90 minutes. Remove and let cool. Add cloves for the eyes.
In a punch bowl, add apple cider, spiced rum, lemon juice, orange juice and soda to taste. Stir in the cinnamon sticks. Add some cooled apples, they should float upward creating some floaty, scary faces. Cool the punch. When ready to serve, add dry ice to create smoke. Serve if you dare.
Recipes courtesy of Chef Jackie Rothong.