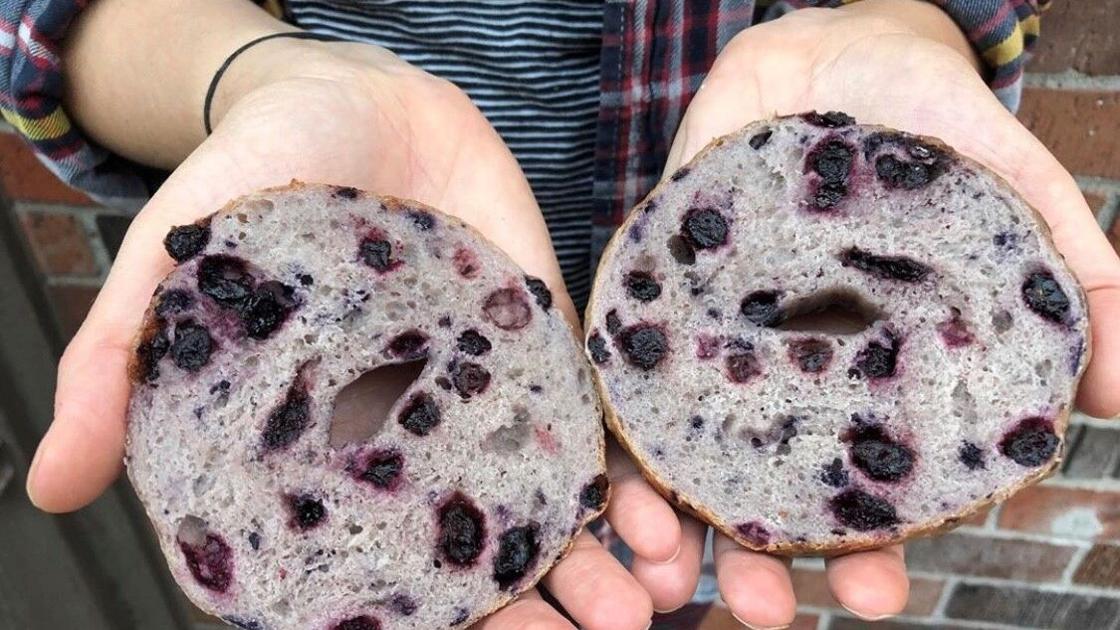 Goldie's Bagels Gets Its Own Home on Ninth Street in Columbia, Missouri | Colombia
After popping up inside Pizza Tree for a year, Goldie's bagels is set to open in the now closed Strollway Market and Harold's Donuts space on Ninth Street in Columbia, Missouri, in late fall.
Beyond its iconic New York-style bagels, the restaurant will offer an expanded menu with babka, tuna sandwiches and egg custard.
Once open, the store will serve customers Tuesday through Sunday, and during the week, owner Amanda Rainey plans to offer breakfast and lunch in Jewish grocery store style. "We're really going to build on Ashkenazi Jewish culture," she said. "We'll have Jewish deli sandwiches, tuna salads, matzo dumpling soup – classic comfort food."
Rainey developed the new recipes in collaboration with Jill Rostine, formerly of Good Food Co., who will be an integral part of the team. "We rely as much as possible on the traditions of Jewish baking," says Rainey. "We will not do [Rostine's] cinnamon buns, but we'll make babka cinnamon buns, rugelach and different cookies and we'll go from there.
On Saturdays and Sundays, diners can look forward to a cozy brunch menu. "On the weekends, people want to come out for a bagel even at 1 pm," Rainey says.
Pair the fare with a freshly brewed Fretboard coffee or egg custard, among other drinks, many of which will be mixed with seltzer water if Rainey has what she wants. "I hope I can have some fun drinks," she says. "Egg custard is a classic Jewish deli drink that does not contain egg or cream – it is chocolate milk mixed with seltzer water. I like being able to dilute a glass with seltzer water; when you get a lemonade that is just too much, just put soda in it. Iced coffee? Add seltzer water and a little simple syrup.
From food to drinks, everything on the menu will be available to take out, using the take out windows previously installed by Harold's. Rainey is also delighted to welcome guests into the open plan kitchen-diner, where they can watch the staff at work.
Rainey has been hoping for a permanent home for Goldie's Bagels for some time. "I kept thinking, 'Something's just going to happen,'" she said. "Then, in mid-June, Michael [Urban] from Harold's called and asked if we would be interested in subletting. The space is already built as a kind of breakfast bakery, the location is amazing and it's quite small which is good for us. We just decided it felt good.
This move makes even more sense to Rainey, however. "I moved to Columbia 18 years ago; I'm 36 and moved here for college when I was 18, "she says. "Eighteen is a very lucky number in Judaism. Each Hebrew letter has a numerical value; the word for life is "Chaim" and it is made up of letters that add up to 18. Thirty-six is ​​like a double "Chaim". I have been part of the Jewish community here for half of my life; I taught at the religious school at the synagogue and tutored many students for bar and bat mitzvahs. Now, being able to feed the Jewish community is really special to me. I'm excited for it.
Until Goldie's Bagels officially opens its doors, its pop-ups at Pizza Tree will continue. From now on, it will also be offering special presale menus for Rosh Hashanah and Yom Kippur.
Goldie's Bagels (coming soon), 114 S. Ninth St., Suite 102, Columbia, Missouri, ordergoldies.com