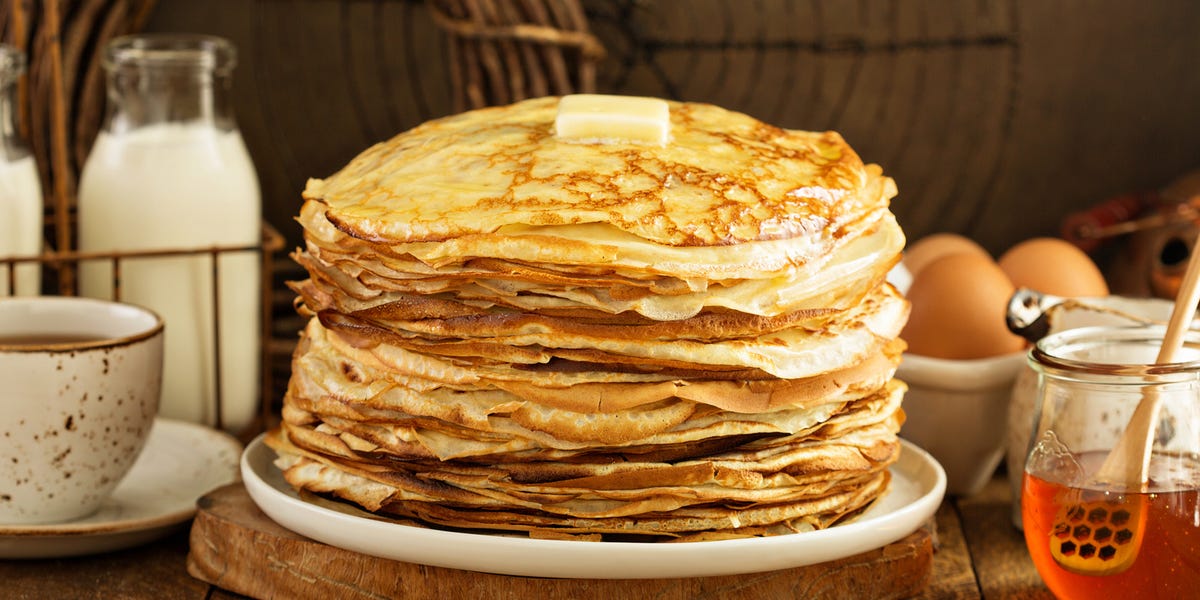 How to make pancakes – classic pancake recipe
How to make pancakes for Pancake Day – a real highlight of our calendar. We love dough-based treats, whether they're paper-thin and doused in lemon and sugar, or thick and chewy, dipped in syrup and piled high.
Shrove Tuesday (March 1, 2022) is a day when even the most reluctant cook finds themselves in the kitchen. And after trying to scrape that pesky pancake from the ceiling, they may rush out of the room yelling "NEVER AGAIN!"
If that sounds like you, here's our handy 10-step guide on how to make pancakes, plus how to get the perfect flip.
How to make pancakes
How to make pancake mix
One hour before you want to cook, put 125 g of flour in a large bowl with a pinch of salt, make a well in the center and break 1 large egg into it. Start beating the egg into the flour, then gradually stir in 300ml semi-skimmed milk to make a smooth batter. Pour into a pitcher and cover with cling film.
let it rest
Refrigerate the dough for 30-45min. This "rest" allows the gluten in the flour to relax and the starch grains to swell for a lighter crepe. The batter will thicken during this time, so dilute with a little water if necessary – when you have just cooked it, it should have the consistency of heavy cream. If your batter is too thick, you will end up with tough pancakes.
Take a good pan
A non-stick pan is ideal, but you can give a regular pan non-stick properties with this simple trick: pour a generous layer of sunflower or vegetable oil into the pan with a big spoonful of salt. Swirl the mixture around the pan, heating until the oil is smoking, then pour the oil and salt into a heatproof container and discard. Carefully use paper towel to wipe up any remaining oil and salt (the pan will be very hot), then use the pan to fry your pancakes.
butter is better
Preferably unsalted (it has less water so won't spit as much). Butter has more flavor than oil, so you'll get tastier pancakes. The best way to fry it is to heat a small piece in the pan, tilt to coat the entire base, then pour the excess into a bowl.
Pretty hot?
To check that your pan is ready, sprinkle a few drops of water on it – if it sizzles immediately, you're good to go.
give it a whirl
Pour in just enough batter to cover the bottom of the pan, swirling it around to cover the entire base. It may take a few times to find the right amount, and remember that the first one is often a bit crazy (but a great advantage for the chef!)
How to flip a pancake
Don't be tempted to try loosening and flipping the pancake too soon, or you'll end up with an unnecessary drop of batter. Watch the surface of the pancake for it to look "dry" (leave about 1-2 minutes), then run a palette knife around the edge of the pancake to loosen it and peek underneath to see if it looks golden. If so, you're good to go back!
Become a Pinball Champion
First, make sure there are no little ones standing too close and there are no obstacles. Shake the pan to make sure the pancake is completely loose (it should move freely). Move the pan slightly away from you so that the pancake slides to the edge. With a quick motion, tilt the pan up and slightly toward you so the pancake lands on the uncooked side. Tossing is not required – although it lacks drama, you may find it easier to use a palette knife to get under the pancake and flip it over. Cook the pancake another 1 to 2 minutes until it is golden on the bottom.
Keep warm
If you do not want to serve as you go, preheat your oven to 120°C (100°C convection heat) thermostat 1/2 and layer the pancakes as they cook, inserting a small strip of parchment paper to prevent them from sticking.
How to serve pancakes
Lemon and sugar or golden syrup are true classics, but since pancakes don't have flavors, they're a perfect blank canvas. Try other combos:
Nutella and banana slices
Your favorite flavored jam
Fresh or canned fruit of your choice
Lemon or orange curd
Honey and orange zest
Apple puree, cinnamon and whipped cream
Plain yogurt with fruit puree of your choice
White chocolate or milk chocolate chips
Or opt for salty:
Pot and grated cheese
Cooked spinach, ricotta and nutmeg
Bacon and maple syrup
Smoked salmon, cream cheese/sour cream and dill
To make eight crêpe-style pancakes, you will need:
1. Sift the flour and salt, make a well in the middle and add the egg. Whisk the milk then leave to stand for 20 minutes.
2. Heat a frying pan and brush it lightly with oil or butter. Add a ladle of batter and tilt the pan to coat well.
3. Fry crepe for 1 ½ to 2 minutes until golden brown, gently flipping once.
This content is created and maintained by a third party, and uploaded to this page to help users provide their email addresses. You may be able to find more information about this and similar content on piano.io