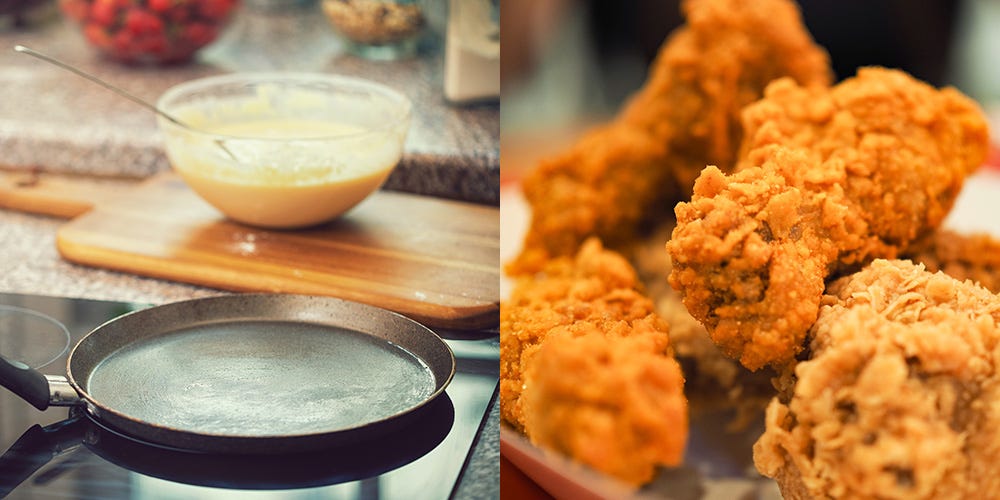 How to use leftover pancake batter for fried chicken
Pancake Day may still be a long way off, but that doesn't mean we can't get stuck into pancakes at another time of year. Heaps of crepes – American-style crepes and pancakes – are expected to cover kitchen worktops and dining tables across the UK 365 days a year, as far as we're concerned.
But what if you've made a ton of pancake batter and you just can't eat any more ultra-thin pancakes? It seems unlikely, yes, but it can happen. So what are you going to do with that leftover pancake batter? It seems such a shame to throw it away.
Well, have you ever thought of using it to make homemade fried chicken? The type of fried chicken you get at KFC. Sounds pretty damn tasty, right?
Pancake mix is ​​simply a runny batter made from eggs, flour, and milk. This is the same base batter used for frying, so you can simply add herbs and spices to the rest of the pancake mix to create the perfect coating for fried chicken, or recreate a fish dinner and pub-style fries while making breaded cod!
But what if you don't have a fryer? Well, don't panic, my friend! You can spray your breaded food with oil and fry it shallow in a frying pan, skillet, or wok to achieve a similar level of crispiness and crunch.
It was actually Skips And Bins that gave us this idea, because these guys are keen on reducing the nation's food waste.
And if you don't fancy fried chicken for dinner, what's a Yorkshire pudding? Mmmmmmmmmmm, toad in the hole, anyone?
Because remember, pancake batter is essentially the same as Yorkshire pudding mix. Pour your whipped batter into a hot, oiled pudding tray for individual Yorkshires perfect for a midweek roast!
This content is created and maintained by a third party, and uploaded to this page to help users provide their email addresses. You may be able to find more information about this and similar content on piano.io