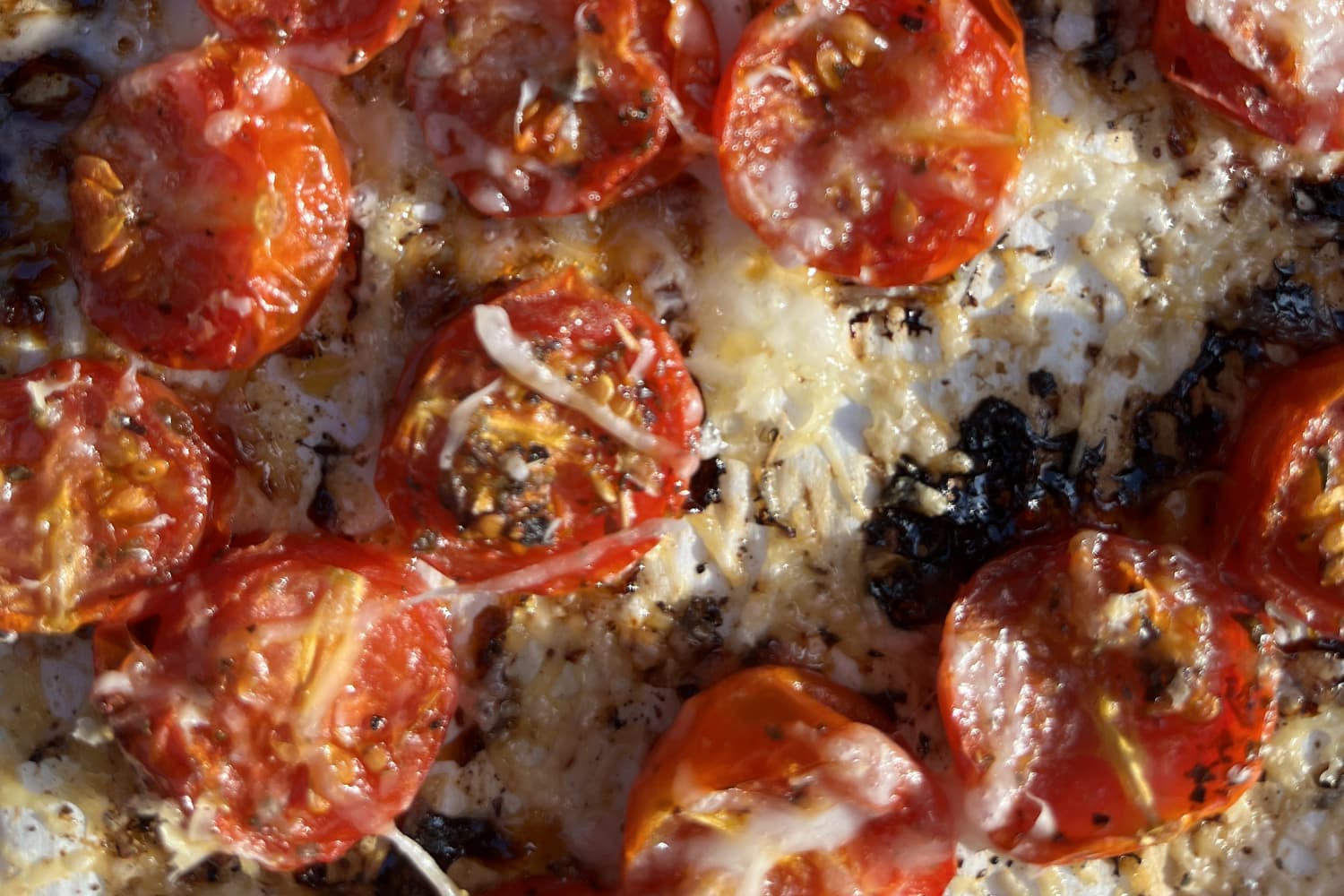 I Tried Liz Moody's Instagram Famous Pizza Poppers
Coming of age in the late 90s and early 90s meant that bagel bites and sun-dried tomatoes were formative elements of my culinary consciousness. So when I saw Liz Moody posted a Pizza Poppers recipe on her Instagram page, it was like the recipe was made just for me.
With a few basic ingredients, anything can be made pizza-style. We've seen it with sandwiches, dips, and pastas, to name a few. But this snack-sized recipe boils pizza down to its essentials: tomatoes, herbs, and cheese. Would these roasted tomatoes deliver the true essence of pizza without the crust? Or would it just be another crustless pizza hack? I went into the kitchen to find out for myself.
How to Make Instagram Famous Pizza Poppers
Cut the cherry tomatoes in half and spread them on a baking sheet lined with parchment paper. Add a drizzle of olive oil, sea salt (I used Diamond Crystal Kosher salt in my test), and dried oregano and toss to coat. Arrange the tomatoes in a single layer, cut side up, and roast the tomatoes at 400°F until the bottoms are deeply browned, 30 to 40 minutes. Sprinkle with cheese and return to oven until cheese melts, about 5 minutes.
My Honest Review of Instagram Famous Pizza Poppers
These pizza poppers are incredibly easy to make, requiring ingredients that are reliably on my weekly grocery list and less than 10 minutes to prepare. I roasted the tomatoes for 30 minutes at 400°F and the bottom was exactly as Moody's described it: "dark brown and even black in spots but not totally burnt". I was worried that pushing them any further would cause bitter flavors to develop, so I sprinkled the tops with finely shredded mozzarella and a drizzle of Parmesan cheese and put them back in the oven.
These Tomatoes with Cheese and Herbs really taste like pizza! Roasting the tomatoes mimics the flavors of long-simmered tomato sauce, while the oregano really drives home the idea of ​​pizza. Although they look like sun-dried tomatoes, don't expect pizza poppers to be so fluffy – especially hot in the pan. Let the tomatoes cool for a few minutes before serving so you can put them in your mouth one or two at a time.
Roasting concentrates the fruity, umami flavors of the already sweet cherry tomatoes, so I was only able to munch on a few before my taste buds were overwhelmed. While these poppers are snack-ready, I think they're best as pasta salad mixes or as an unexpected addition to summertime snack boards.
If you're going to try Instagram-famous Pizza Poppers, some tips