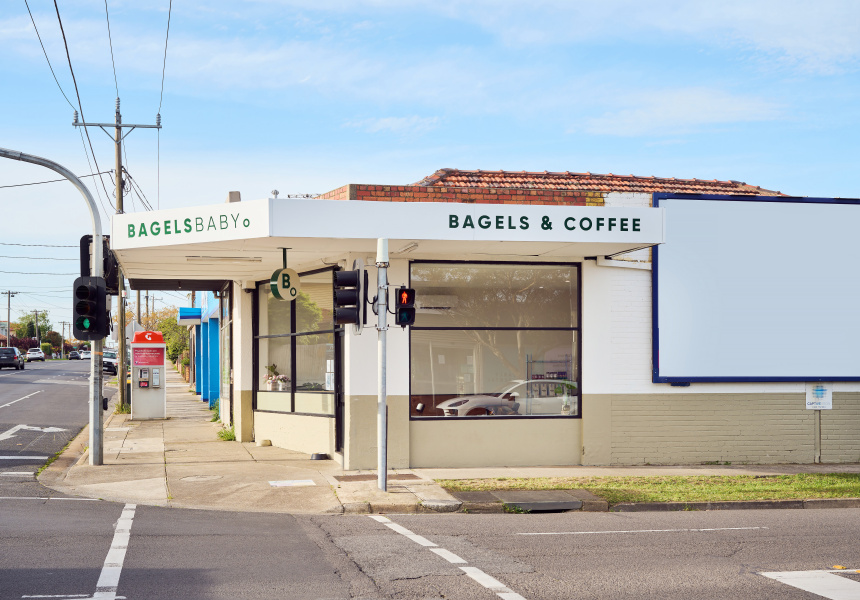 It's all bagels, baby in that Reborn butcher shop in Pascoe Vale
There's a crowd gathering in a corner of Pascoe Vale, and they all have one thing on their minds: bagels, baby.
In a former butcher's shop at the intersection of Derby and Gaffney streets, locals Claudia and Anthony Carnovale serve seriously stacked bagels. Of course, there are tried and true toppings, but you will also find some unexpected but equally delicious combos.
Claudia, who recently worked in events at Vue Group, didn't expect to be greeted so warmly by the neighborhood. But it is clear that they are on to a good thing. In Bagels Baby's first week, she says locals ordered around 300 bagels every day at lunchtime.
Choose from 10 bagels: the classic lox; brisket and gruyere; labneh and za'atar; bacon and standard egg; a hearty chicken katsu; salami and provolone; and avo and feta. There's also a vegan-friendly miso mushroom option as well as a tempeh BLAT. Plus, for something sweet, try the ricotta and strawberry bagel (cannoli-inspired). They are all served on bagels from the Elsternwick Savion bakery.
On the drink side, the Carnovales use local roaster Padre, along with freshly squeezed orange juice, lemonade from Yarra Valley Yumbo, and a few options from San Pellegrino.
The once dilapidated space no longer looks like it used to be. Anthony, a tradie, roped up a few buddies and spent a ton of time cleaning it up. In the process, they dug up a concrete floor and exposed brick wall from the original layout. With a few simple tweaks, these design features have been restored, making it a simple yet schmick showcase.
One feature, however, catches your eye. A sign on the wall reads: "No one puts baby in the corner" – a quote from Dirty dance. And that's true. Bagels Baby can sit in a physical corner, but if the crowd is anything to go by, it quickly takes center stage.
Baby Bagels

36 Derby Street, Pascoe Vale
Hours:

Tuesday to Friday from 7 a.m. to 3:30 p.m.

Sat and Sun 8 am-3pm
@bagelsbaby