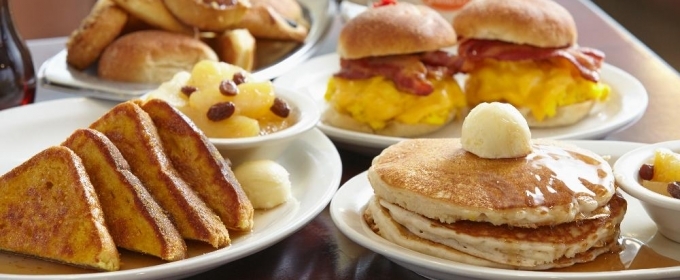 JUNIOR RESTAURANT for National Pancake Day and breakfast every day
Today is the day! March 5th is National Pancake Day and flapjack fans are celebrating across the country. There is no better place to enjoy a stack of large, fluffy pancakes than the Junior Restaurant. We stopped by the lively and welcoming Broadway restaurant at 49th Street for a delicious breakfast with all the trimmings. The morning meal is served daily from 6.45 a.m. to 10.45 a.m.
Junior's light and savory cupcakes are served with butter and a side of warm and savory apples and raisins. Pour over the maple syrup for a sweet treat. If you want a more filling dish, you can add a generous helping of bacon, sausage, Virginia ham, or Canadian bacon.
Not in the mood for pancakes? We love that Junior's has a full breakfast menu that includes traditional dishes and specialties. Omelets include cheese, vegetables, western beef, corned beef, or pastrami. If you want something a little different, there's the NEO with Scrambled Nova, Eggs & Onions or House Cheese Blintzes. The Classic Eggs Benedict, Steak and Eggs or French Toast are sure to please.
Add extras like a Danish pastry, a butter or cream cheese bagel, corned beef mince, tomato slices, oatmeal, a muffin and homemade fried potatoes. If you go light in the morning, there is also fresh fruit, yogurt, granola, and oatmeal. Choose from the drink menu which includes coffee, tea, juices and cocktails.
Even with Junior's Griddle Cakes taking center stage on National Pancake Day, it's good to know you can drop by for a great breakfast any day, any day.
Junior's restaurant has a New York history to admire. Founded by Harry Rosen at their iconic Brooklyn restaurant nearly seven decades ago, Junior's has extended its roots with multiple locations and a 103,000 square foot bakery in Burlington, New Jersey, which spans seven acres and ships cheesecakes around the world. At the helm of the Junior's brand is third generation owner Alan Rosen. Junior's Restaurant continues to be a household name when it comes to classic New York cheesecake, and a neighborhood restaurant for regulars and newcomers alike.
The addresses of the Junior's Restaurants are as follows:
-Brooklyn, 386 Flatbush Avenue EXT Brooklyn, New York 11201, Phone: 718.852.5257
-49th Street NYC, 1626 Broadway New York, New York 10019 Telephone: 212.365.5900
-45th Street NYC, 1515 Broadway, 45th St. B / W Broadway & 8th Ave, New York, NY 10019, Phone: 212.302.2000
– Foxwoods Casino Resort, 39 Norwich Westerly Rd Mashantucket, CT 06338, phone: 860.312.2253
For more information on Junior's Restaurant and to order online, please visit: http://www.juniorscheesecake.com/.
Photo credit: courtesy of Restaurant Junior's