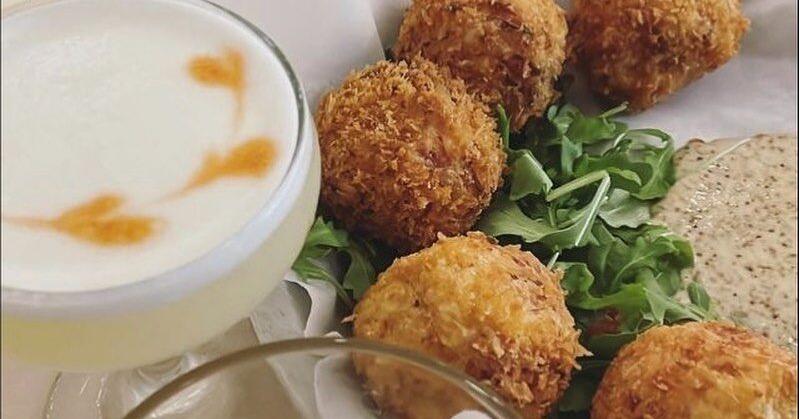 More Than Bagels: Evening Restaurant Nightjar Opens at Native Bagel | News
Long regarded as a small artistic college town, Berea until now lacked a trendy evening hangout.
Nightjar, inside the Native Bagel Company at 436 Chestnut Street, seeks to change that. According to owner Katie Startzman, the restaurant and bar will serve sausages, burgers, chewy pretzels and much more Dutch-German inspiration from Pennsylvania, all meats sourced from the Berea College farm.
With its official opening on November 19, I visited the bagel store turned restaurant for a first review.
Those familiar with the Native Bagel will feel right at home inside Nightjar, which features much of the same look – white, stone walls lined with hanging flora and lights hanging from high ceilings. The newly installed bar, named after a night owl, is on the left side of the building.
My group started our tour with two "early risers," smoked stuffed eggs (five smoked Berea College Farm egg halves, stuffed and topped with crumbled bacon), $ 6; and sauerkraut fritters (mild sauerkraut with Swiss cheese and speckwurst sausage served with honey mustard), $ 7. Both were delicious and filling enough, my dad didn't bother ordering a starter. His only complaint was with the donuts, which he said could have used more honey and mustard sauce on the side.
The other two entrees on the menu are a soft fretzel (made fresh daily and served with honey mustard or Obatzda – a German cheese spread), $ 6; and Currywurst (hand-cut fries topped with a curry tomato sauce and toasted mayonnaise), $ 9.
While my dad was enjoying his appetizers, I ate speckwurst, a giant smoked sausage made with bacon and pork that costs $ 11. Full of rich smoky flavors, the sausage paired perfectly with the whole grain mustard it was garnished with and the toast it lay on top of. It also came with fries, which were well seasoned but could have been a bit hotter, and a German coleslaw that I didn't get to try.
Other sausages available include a traditional Bratwurst and a Spicy Hungarian Sausage (a pork sausage with smoked paprika, caraway and garlic), both for $ 11.
Nightjar also serves four signature burgers ranging from the Oklahoma cheeseburger (a 6oz double patty fried with minced onions and topped with American cheese), $ 11; au Artichoke Burger (an artichoke fritter with chickpeas garnished with onion, lettuce and remoulade), $ 10. A classic cheeseburger (a 6 oz double patty topped with American cheese, lettuce, onion and mayo), $ 12; and a Baby Burger (a 3 oz. patty topped with American cheese, lettuce, onion and mayo), $ 9; are also on the menu.
All burgers are cooked "mashed", a method that improves the contact of the meat with the heat source and would intensify the flavors. According to Startzman, later this winter the restaurant will begin incorporating weekly hamburger specialties into the menu that take inspiration from regional burger styles in the United States. She also hinted at the seasonal dishes that make full use of the local produce available and showcase the creativity of Nightjar's chefs.
While waiting for our food, my dad and I also each sipped a Night Hawk, $ 9; one of the bar's seven signature cocktails. A bourbon drink mixed with honey, rosemary, and lemon, the Night Hawk had a smooth, sweet, and lemony flavor. I'm not a heavy drinker of beer or liquor, but the Night Hawk is a cocktail I could drink over and over again.
Nightjar's six remaining cocktails are "Whip-Poor-Will" (gin, pear, sage, lemon and egg white), $ 9; "Chuck Will's Widow" (rye whiskey, pineapple rum, bitter cherry, demerara and angostura), $ 9; the "Chimney Swift" (vodka, coconut, chai, vanilla, lime, cinnamon and burlesque bitters), $ 9; the "Crowned Heron (tequila, lime, curry, grapefruit and seltzer water), $ 9; the" Mocking Bird "(Lillet rose, lemon, prosecco and seltzer water), $ 7; and the" Aperol Spritz " (aperol, prosecco and seltzer water), $ 7.
Three wines are also available – "Gruner Veltliner" (clear white), $ 10 for a glass or $ 38 for the bottle; "Dogajolo" (Tuscan red), $ 9 / $ 36; and "Millesimato Extra Dry" (prosecco), $ 10 / $ 38 – and four beers – "Bitburger Premium Pilsner", $ 6; "Weihenstephan Hefewiess", $ 6; "Ace Pineapple Cider," $ 5; and "Peanut Butter Milk Stout" from Left Hand Brewing, $ 6.
To complete Nightjar's opening day menu, two salads, the "Wedge" (a wedge of lettuce topped with ranch dressing or blue cheese, crunchy diced vegetables and anything that crumbles with bagel seeds. ), $ 8; and the vegetarian "Autumn Salad" (arugula, roasted sweet potato, blue cheese
crumbles, pomegranate and candied pumpkin seeds in a maple vinaigrette), $ 9.