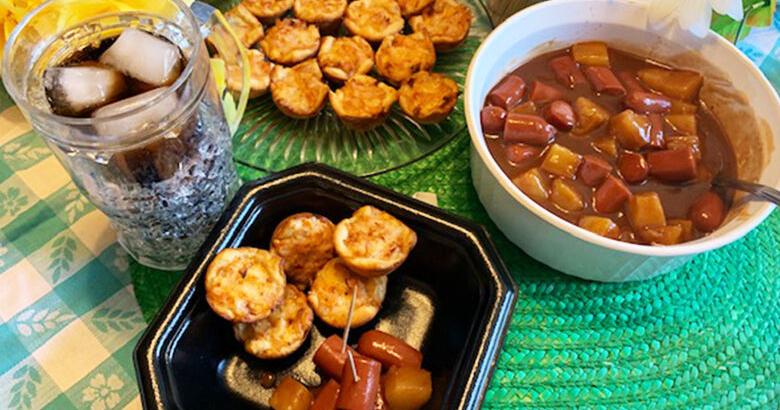 My Leader Yummy – Bites of Sweet and Sour Hot Dog, Mini Ham & Swiss Cuts | Receipts
Summer is the perfect time for entertaining, whether it's a BBQ or pool party or just getting together with a few friends to sit and chat. No matter how you entertain yourself, food is always an important part.
If you want to serve something more than fries and dips or cheese and crackers for a change, here are some ideas you might like to try – Sweet and Sour Hot Dog Bites and Mini Ham and Swiss Cuts. Both are easy to prepare and you probably have most of the ingredients on hand.
These appetizers are also perfect as a snack for children during the summer holidays!
SWEET-THICK HOT DOG BITES
1 (10 3/4 ounces) condensed tomato soup
1/4 cup grape jelly
1/4 cup balsamic vinegar
1 tablespoon prepared honey mustard
1 pound of your favorite hot dogs, cut into 1-inch pieces
1 can (20 ounces) pineapple chunks, drained
In 2-quart saucepan over medium heat, heat soup, jelly, vinegar and mustard until jelly melts and mixture is very hot, stirring occasionally.
Add hot dog chunks and pineapple chunks to sauce; reheat, stirring occasionally. Serve hot with wooden toothpicks or cocktail sticks. Makes about 40 entries.
NOTE: If you prefer to use your microwave, combine the soup, jelly, vinegar, and mustard in a 3-quart microwave-safe casserole dish, cover, and microwave on high for 3-5 minutes until heated through, stirring once during cooking. Add hot dog chunks and pineapple chunks to pan. Cover; microwave on High 5 to 8 min. or until heated through, stirring once during cooking.
MINI HAM AND SWISS CUTS
1 (2 1/2 ounce) package deli ham, finely chopped
1 small onion, finely chopped
1/2 cup grated Swiss cheese
1 egg, beaten
1/2 teaspoon Dijon mustard
1/8 teaspoon black pepper
1 chilled croissant roll in a tube (8 ounces)
Mix ham and onion. Add cheese, egg, mustard and pepper. Mix well and set aside.
Unroll the rolls of croissants; press dough into single large rectangle. Cut the rectangle into 24 squares.
Press each square into a lightly greased mini muffin pan. Fill muffin cups with ham mixture.
Bake at 350 degrees for 12-15 minutes or until golden brown. Makes 2 dozen entries.
Note: You can also use mesquite-smoked turkey instead of ham, if you prefer.
Brotherton offers website readers one Stellar Recipe per week in the "My Leader Yummy" feature. Looking for a recipe that you can't find? Email me at [email protected] and I'll see if I have it.