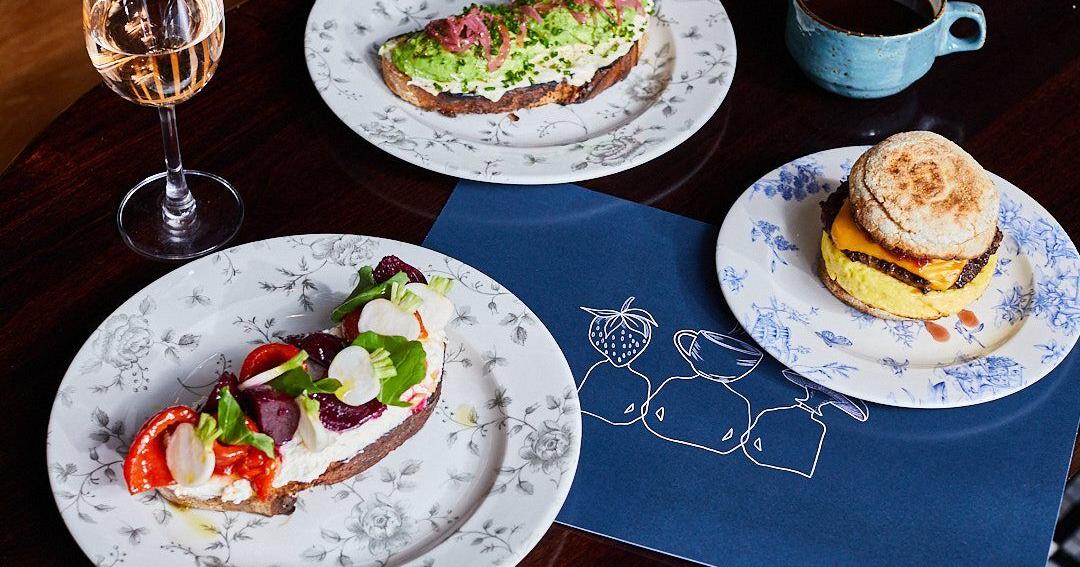 new cafe at Bobby brings an intriguing option to downtown | Bites
Normally, opening a new cafe downtown wouldn't catch my attention so much. I mean, they're a dime a dozen. (Or maybe I should say "a dollar a star," because those things are everywhere!).) as he continues to finalize details for his impending fine-dining restaurant at the downtown boutique hotel, I was intrigued. When a few friends invited me to try the new place, we basically ordered from the opening day menu earlier this week.
The new cafe just inside Bobby's front door boasts an expansive front patio, which should provide a great urban sidewalk cafe vibe once the weather permits. The interior space is also very attractive, with the coffee bar's obligatory reclaimed barn wood cladding and comfy tables with intentionally mismatched plates and glasses. Open daily from 7:30 a.m. to 3:30 p.m., Cafe at Bobby offers custom coffee drinks with beans from OSA's beloved local rotors (which they also offer at retail if you want to take a bag home), plus beer, wine and a limited cocktail menu if you're looking for a celebratory brunch.
As I was immediately impressed that they chose OSA as the backbone of their coffee program, I investigated the other local suppliers they used, as I remembered that Chef Poli is a big supporter of local shopping whenever possible. Right there on a large board above the ordering booth was a list of some of my favorites, plus a few new finds I hadn't yet been aware of.
Their breakfast sausage comes from Bear Creek Farm, and Chef Poli admitted he had to beg to get that precious pork away from Leeann and Bill Cherry, who usually keep their sausage quite close to the brisket. It was well worth the effort as this spicy pork patty is the base of an amazing breakfast sandwich they call the McBobby. Sure, it's a knockoff of one of two national restaurant chains based on clowns, but Ronald never dreamed of serving up a homemade muffin stuffed with that Bear Creek sausage, fluffy egg frittata , American cheese and a sweet and savory onion jam. At $15 it's not cheap, but I would consider it a brunch/lunch option against most burgers in town in this price range. It was big enough to share.
If you think avocado toast jumped on the shark, you just haven't eaten Chef Poli's avocado toast yet. Explaining that he thinks most versions of the ubiquitous breakfast menu items are just guacamole smeared on bread, Chef Poli set out to create a standout version. It started with amazing slices of toasted sourdough bread from Ornette Bread, a name I had seen on menus but had never known before my visit to Bobby. Poli promised it was "the best sourdough in town," and if it's not, I'd love to see (and eat) its equal!
On top of that perfectly funky sourdough is another one of those frittatas, a schmear of Brillat-Savarin cheese, chives and house-pickled red onions to cut the fat from the cheese and the avocado, which has been thinly sliced ​​and artfully tiled on top. the toast. My timing is rarely good enough to cut through an avocado at its peak freshness, so I really enjoyed these treats.
A complementary version of the toast could have been even better than expected. The Beet and Ricotta Toasty features rich buffalo ricotta whipped with pickled red beets, roasted peppers, sliced ​​radishes and herbs on another slice of this baked delight by Ornette. Let's just say I can't sell beets to the other eater in my house, so now I know where to go next time I need a fix.
Oh, and I haven't even mentioned the sweet side of the menu yet! The kitchen prepares a rotating assortment of fresh pastries each morning, including buttery and puff pastry croissants, one of which was stuffed with Nutella. (That's just cheating in my eyes.) Other pastries I tasted were highlighted by airy turnovers with cherry and apple compote, a delicious cinnamon roll, but understated , where you could actually taste the spice over the sugar, and something with chocolate chips that disappeared before I could get a full read of it. And those pastries are only $5 apiece, which might seem expensive until you realize that a) those are hotel prices, and b) you'd pay almost that much for a Cinnabon at the airport, which you shouldn't do.
One thing we didn't get to try were offerings from local cult favorites Conny and Jonny Donuts. From their beginnings as a specialty menu item at Pinewood Social until today, when Constance and Jonathan Farro can pretty much sell out every week just from pre-orders, it's been an indulgence. "if you know that you know". Now that you know, if you happen to walk into Cafe at Bobby shortly after a delivery, this is what you should order.
Chef Poli also brought out an amazing gravlax dish which he was experimenting with Norwegian salmon. Not as salty as most smoked salmon, it was fantastic on my third slice of Ornette, with a premium soft cheese. It's not in the main menu yet, but it should show up in some form soon. (I hope!)
Other local suppliers Poli works with include Mr. Aaron's Goods, Bloomsbury Farm and Maypop Sparkling Water, so you can see the chef truly believes in sourcing as close as possible. It's a big change from 'Big Coffee' and almost unheard of in hotel cafes. Although not yet confirmed, they are even considering offering validated parking to encourage locals to drop by for a quick cup of tea and a morning meeting, but it is very easy to walk there from almost n anywhere in the downtown business district. I know I will be.