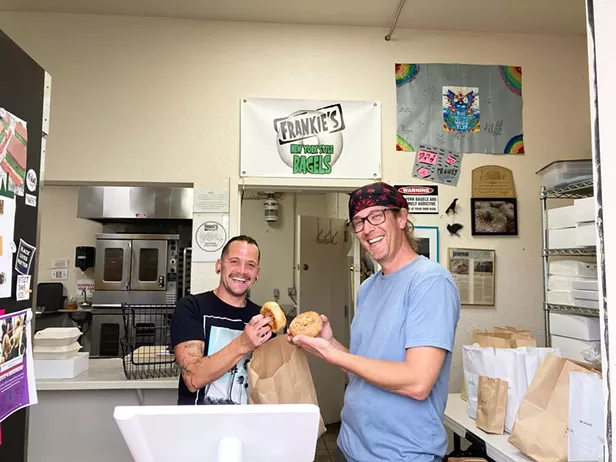 New faces at Frankie's NY Bagels | On the table
On Sunday morning, Steve Band stood by the cashier at Frankie's NY Bagels, a crowd of paper bags labeled with customers' names at his elbow. Next to him, Frankie Baker, owner and founder of the boutique tucked away in Redwood Acres, greeted a customer and introduced him to the new one. Band and his wife, Rebecca, would learn the ropes from Baker for a few weeks before taking over as the new owners selling the same bagels that earned the shop a loyal customer base.
In October 2020, after running Frankie's NY Bagels as a one-man shop for six months, owner Frankie Baker told the Log he was ready to sell. But a year and a half later, he was still up before dawn to shape, boil and bake the bagels his loyal clientele ordered online, as well as the donuts and other sweets he added to the menu. The shoulder problems that made labor difficult hadn't improved without the surgery he'd put off but he still hadn't found a buyer. He'd had a few nibbles and gotten closer, but after having his plans thwarted, he says he was "not burnt", but maybe a little toasted.
A few weeks ago, after landing a job as a youth prevention specialist with the nonprofit Humboldt Independent Practice Association, Baker announced he was throwing down the oven glove and closing his doors. . Like many repeat customers, Steve and Rebecca Band were disappointed.
"He said, 'This is your last bagel,' and I said, 'No, it's not!'" Steve Band says with a broad smile. Band, a native of Albany, Calif., says he was looking for a career change after years as a political campaign consultant who had worked extensively with labor unions before coming to Humboldt two years ago. "I felt like the universe was talking to me."
The bands are both Jewish, but Steve says visiting his wife's hometown of Stamford, Connecticut was his first taste of traditional bagels. "We grew up thinking Noah's bagels were bagels," he says, falling into a brief silence.
When they moved to Humboldt, they, like many East Coast transplants, became regular customers at Frankie's (any bagel with pickle cream cheese for him, sesame with vegan cream cheese for her). The vegans at the shop directed them to Redwood Acres because the bagels, made without egg wash, are vegan. And, as Steve Band says, "Frankie makes the best vegan donuts ever."
Learning to make those bagels, donuts and other treats from Baker, who starts work before 4 a.m., means a shift in his circadian rhythms, but Band says he's adjusting. "I feel like by then it's so early that it's like being a night person," he says. An avid baker at home, he will do most of the production, with Rebecca up front and their 7-year-old daughter in tow. Band says he's not looking to change Frankie's staple foods, vegan or otherwise, and is determined to continue producing bagels with the pebbly surface, chewiness and soft interior of Baker's recipe. Limited hours and online ordering will also remain in place for some time.
"Once I can fit in and do what Frankie does, then we can look at expanding," Band says. He and Rebecca can't wait to add flaky rugelach for Hannukah and jammy hamantaschen pastries for Purim, "family recipes the Jewish community didn't have in Humboldt." Plus, he says, "Frankie is going to stay on as a consultant, so if he has a midnight bagel idea, he can send it over."
Baker, who volunteered to work with middle schoolers, says he's ready to move in a new direction. He is ready to have shoulder surgery and also give up physical work. When asked if he would start making bagels at home like he did before opening Frankie's, he said adamantly no. "I'll go see Steve," he said. "I'm going to line up with everyone." Previously, he said the business would be good for a couple to run. "Now get to know [the Bands]they're like the perfect people to take over."
Jennifer Fumiko Cahill (her) is the Journal's Arts and Features Editor. Contact her at 442-1400, ext. 320, or [email protected] Follow her on Twitter @JFumikoCahill.