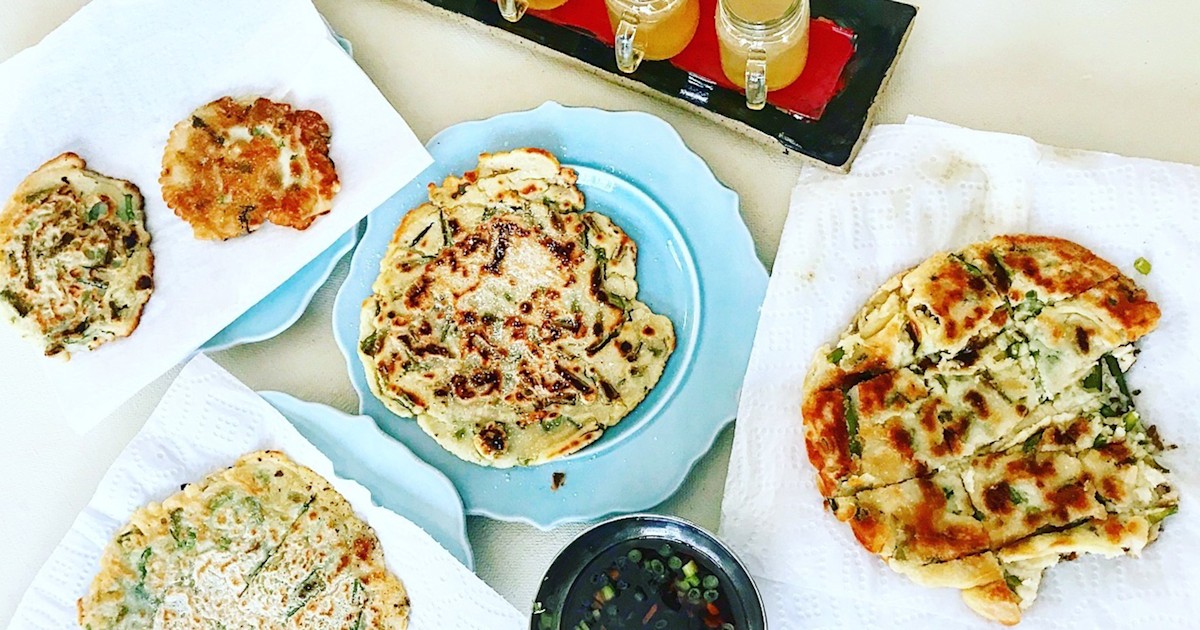 Pajeon recipe (pancake with green onions)
Chef's Notes
There are a few scents in the house that signal that there is going to be something amazing on the table – and this is one for me. The sounds, scents, and sizzle of any type of jeon are always comforting. In my house, it's definitely a go-to not just for parties, but anytime my family needs a quick delicious meal. It's a Chuseok staple, but it's suitable for any occasion.
Technical tip: I made these pancakes two ways: 1) You can cook some of the moisture from the green onions first and add the batter on top before flipping, or 2) You can put everything together then cook your pancake in hot oil. to keep it crispy. My family usually makes the second, mainly because there's less time waiting for the onions to cook. Also, be sure not to overmix your batter, to ensure that the gluten doesn't get overworked, making the crepe fluffier.
Possibility of exchange: If you're going the gluten-free route, cornstarch and rice flour work well as flour substitutes (my husband is also a fan of adding rice flour for chewing). If you don't have doenjang on hand, miso paste also works well. This recipe is egg-free, but an egg can be added if desired.
Preparation
For the dip:
In a small bowl, combine the soy sauce, sesame oil, rice wine vinegar, honey, garlic, chopped scallions, sesame seeds, gochugaru, if using, salt and pepper, and whisk with a fork.
For the crepe:
1.
Combine water, flour, cornstarch, soybean paste, sesame oil, green onions and kosher salt in a mixing bowl. Whisk well until the batter is smooth and lump-free.
2.
Place a nonstick frying pan over medium heat, coating the bottom of the pan with about 1/4 cup of cooking oil. Let the oil heat for about 1 minute or wait for the oil to shimmer to begin frying.
3.
Once the oil is heated, carefully pour in the green onion batter (being wary of possible splashes).
4.
Let the pancake cook on both sides for about 3 to 4 minutes each, or until both sides are crispy and golden.
5.
Turn off the heat and transfer the pancake to a plate. Cut into chunks and season the top with salt and pepper.
To serve:
Serve hot with a dipping sauce on the side.