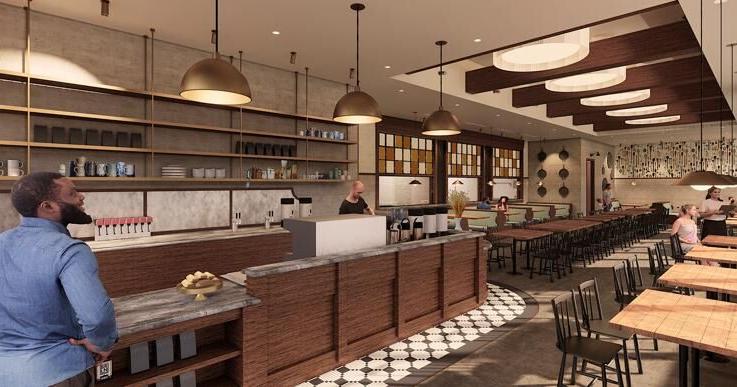 Pancake Pantry to Take Up Space in SoBro Hotel Building | Food drink
On Tuesday, the owners of The Pancake Pantry breakfast restaurant announced a second location, which will open in November in the building housing SoBro's Hyatt Centric Downtown Nashville.
The announcement comes as the parent company celebrates 60 years in business for the venerable Hillsboro Village-based restaurant.
The 4,200-square-foot restaurant has 114 indoor seats and 28 seats on an outdoor patio, according to a statement. It will occupy space in the 20-story building but is not specifically part of the 252-room Hyatt Centric, which opened earlier this year and offers an address of 210 rue Molloy
The terms of the lease and the cost of commissioning are not disclosed.
"The Pancake Pantry is a must-see destination for Nashville natives and tourists," Chip Bradley, managing partner of The Pancake Pantry, said in a statement. "We are thrilled to bring this Nashville tradition to the heart of the city and provide even greater access to our world-famous scratch pancakes for locals and visitors alike."
The downtown restaurant will offer a different concept of service than its sister business Hillsboro Village, he says. Rather than ordering at the table, customers will make their choices at the counter and then be seated. This model is designed to meet the specific needs of downtown diners and tourists.
"Downtown Nashville is the epicenter of our city's business sector and a vital part of our vibrant tourism industry," Bradley said. "By providing a streamlined ordering and table delivery process at this location, we will give tourists and members of the business community a chance to enjoy a Nashville tradition while keeping their busy schedules on track. "
Nashville-based CB Ragland Co. developed the SoBro site and owns the hotel building, which also houses Ella's restaurants (located off the hotel lobby) and LaLa's (a rooftop bar. ).
"When I think of having breakfast with my family and friends and showing off the best of Nashville, I think of The Pancake Pantry," Michael Hayes, president of CBR, said in the statement. "And, apparently, others too, because there is always a line in front of the door. The restaurant has become an institution in Midtown, and now we couldn't be more excited to bring The Pancake Pantry downtown.
Founded by Robert Baldwin in 1961, The Pancake Pantry was then operated by David Baldwin (Robert's son) from 1988. Dee Northcutt now runs the business, which still features "secret recipes" used to create pancakes and waffles at home.