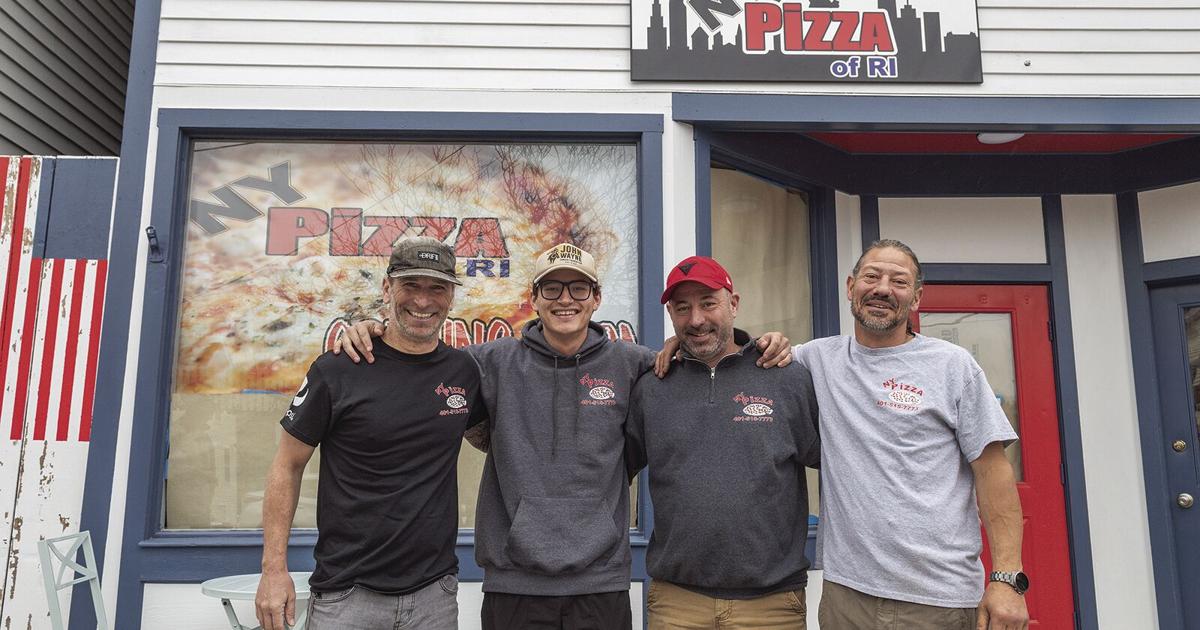 Pizza is back on the menu in downtown Wakefield | News
SOUTH KINGSTOWN, RI — Pizza lovers, especially those opting for a thin, authentic New York-style pie, will have reason to rejoice this week in Wakefield.
They can't see it yet, but behind a large paper sign covering 328 Main St., Nabil Bahi and his family are spending long hours putting the finishing touches on their dream of opening NY Pizza of RI, a project that has been in the works for several years for Bahi.
"We come here to start fresh and bring our food to this area," Bahi said.
He's teamed up with Rob Jones, owner of the Drift surf shop on Kingstown Road, at his business in downtown Wakefield. This is Jones' first foray into the restaurant industry.
"I learn fast," Jones said.
The new business is set to open on Sunday, just months after Pier Pizza closed at the same location, disappointing many who said it served the best pizza around.
Timing was everything for Bahi, who was looking to leave the pizza business after more than 25 years on Long Island.
"My plan wasn't to be in the pizza business," he said. "This pizzeria kind of fell into my lap. This opportunity was unexpected and welcome.
Bahi is also in the process of opening a New York Bagels store locally in the fall.
He has owned a series of pizza restaurants on Long Island for 26 years. It is a family business with his son Max, 21, who takes care of the management of the pizzerias.
The family started coming to South County about five years ago and Max completed his last two years of high school in Chariho. Now, Nabil Bahi is guiding his son to one day take over the business, "and allow me to retire," he laughs.
Bahi has rented a house here for the past two years and is in the process of relocating his family entirely to Rhode Island and selling his Long Island shops.
"New York is not what it was before COVID," he said. "We love the people here, we love the energy, the atmosphere."
It's one of his hopes "to educate people differently about pizza," he said.
"It's a different type of pizza here," he added. "It's a deep dish as opposed to a hand dish. These are different ingredients and different levels of quality than I am used to. Basically, we hope to show a different type of pizza and a whole bunch of new items that we don't see here like garlic knots, pinwheels, Sicilian pies, as opposed to the normal round dish we find. It's handmade New York style, as opposed to Greek deep dish.
Max called New York-style pizza an art form.
"It takes years and years of skill to master, to be able to toss a pizza in the air and create something that is a work of art in itself," he said.
Bahi started as a dishwasher at the age of 12, working his way up the restaurant ladder to becoming a prep cook, line cook and until the age of 17 he began to learn from "all the owners of old school Italian pizzas".
"They taught me a trade and craft that is now an endangered species," he said.
Work continued on Tuesday inside the shop, which has been transformed from when it housed Pier Pizza. Service will focus primarily on take-out and delivery, with a counter alongside the display case where diners can sit or stand.
"You can see the transformation. The walls are gone, new walls are being erected," Jones said. "New counters, new flooring."
To start, the menu will consist of pizzas, salads and pizza-related items, but could grow from there, Bahi said.
Among his favorite customers, Bahi said, are a margarita pizza, another Hawaiian pie and, of course, a plain.
"Whenever a pizza lover eats anywhere, they order a slice of regular pizza," he said.
A key ingredient in making pizza — in addition to the actual ingredients, which Bahi says will be the best — is the oven. Bahi took delivery of a pair of locally sourced eight-by-eight Baker's Pride ovens on Tuesday, replacing the smaller models.
"Now, instead of 12, I can put 16 pies in the oven," he said.
He expects to be busy from the start, depending on how curious he is about the company.
"I knew two or three years ago that we were supposed to come here and open this, to share what we have with the community," Bahi said. "Everyone has been so warm and helpful. We've had so many people looking head over here already.