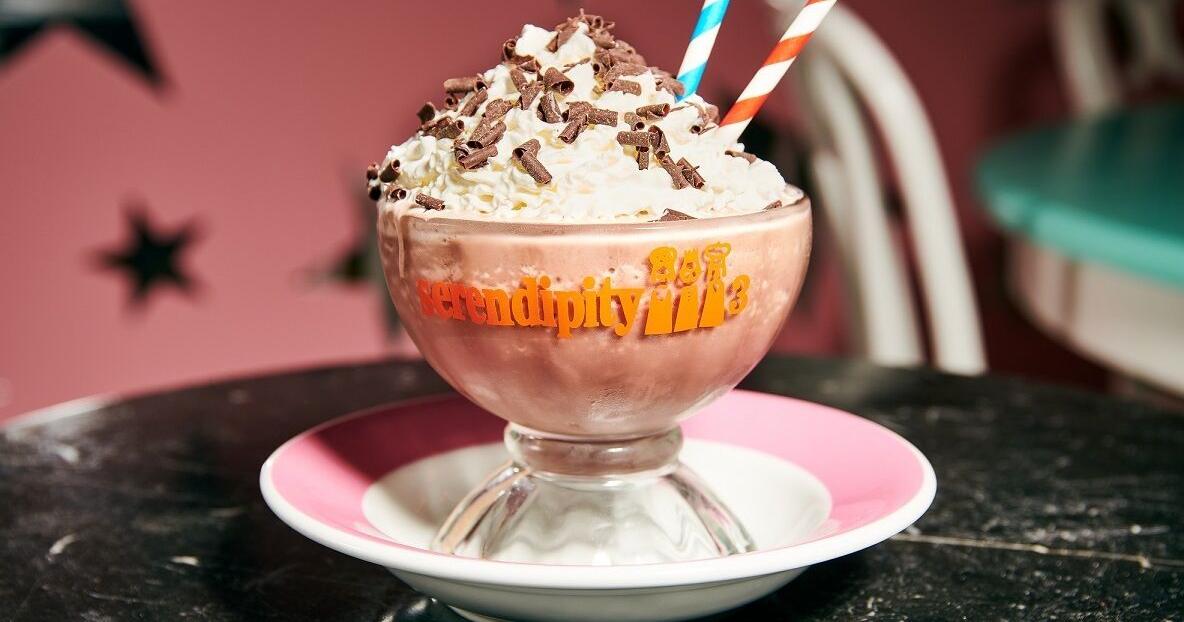 Serindipity3 brings over-the-top desserts, bites, drinks and celebrations to Ocean Casino | To eat
SCOTT CRONIC

Few restaurants can say a movie is named after him. …or that they've been around for over six decades. …Or that Cher, Jackie O, Beyonce, Jay-Z and Kim Kardashian were clients. …Or that Selena Gomez is a partner.
But Serendipity3 can claim all that… and more.
Since opening in New York in 1954, Serendipity3 has become a culinary institution, a place where locals, tourists and celebrities flock for good food and sweet treats, like their famous hot chocolate Frrrozen.
It's so popular that the 2001 romantic comedy "Serendipity" starring John Cusack and Kate Beckinsale centered on the eventual couple having dessert at Serendipity3.
Now Atlantic City can claim its own Serendipity3 at Ocean Casino Resort, currently the only other Serendipity in the world.
"Serendipity3 is known around the world as the #1 location for birthday parties, bachelorette parties and special occasion celebrations," says John Cestare, owner of Serendipity3. "The location here at Ocean Casino Resort in Atlantic City celebrates hundreds of events each week, with special attention given to the guest of honor.
Cesare is not joking. Among Café 500's renovated old restaurant is a giant LED screen that goes crazy when it's time to celebrate someone's special occasion. We attended three birthdays in 15 minutes with staff singing along and bringing out some kind of gigantic dessert.
Other design highlights include giraffes peeking out from a rose-lined wall, framed photos of celebrities, and cotton candy clouds hanging from the ceiling.
In other words, it's a real Candyland with good food.
I'll go back to what Serendipity may be known for – like that Frrrozen Hot Chocolate or $99 sundae named after Gomez – but Serendipity3 is so much more than that.
The large – I mean oversized, crazy – menu offers a wealth of savory choices with something for everyone, from burgers to pasta and everything in between.
While most menus mimic New York's, some things are unique, especially the Ferris Wheel Sampler ($33), a monstrous pile of mozzarella sticks, popcorn shrimp, pretzel bites, chicken and onion rings served in separate compartments on a giant ferris wheel that will take over any table. The presentation, like most things at Serendipity3, is superb, and the giant appetizer comes with all the appropriate sauces.
Other entrees include cheeseburger sliders ($20) with American cheese, special sauce, lettuce, and tomato; Wild West Wings ($18) with blue cheese dressing served with buffalo or BBQ sauce; and the Ultimate Potato Skins ($17) "filled with goodness" like bacon and cheese.
The largest section of the menu – "Between Two Pieces of Bread" – features excellent favorites and is served with pickles and fries, including the Chilli Cheese Dog ($20), the impressive BBQ Cheeseburger with bacon ($21) made with fresh ground meat and the Grilled Young Chicken Sandwich ($20) with avocado, bacon, lettuce, tomato, Cheddar Jack cheese and spicy mayo.
This chicken sandwich and salad section, which has four salads, are pretty much the only healthy options you'll find here, including the Monet salad ($19) with baby arugula, strawberry, avocado, candied walnuts, cheese crumbles blue cheese and balsamic vinaigrette.
And the small entrée section includes two pastas — check out the surprisingly good Chicken or Shrimp Penne Alfredo ($25, $30) — and the Buttermilk Fried Chicken and Waffles ($23).
An area of ​​the menu – topped with a Guinness Book of World Records logo – is devoted to six ridiculously priced items that set records for being the most expensive dish of its kind, including the Golden Opulence Sundae ($1,000 ) with gold leaf, almonds, caviar and a sugar-forged orchid that takes eight hours to build; The Extravagant Burger ($295) with Japanese wagyu beef, black truffles and a quail egg; the $214 Quintessential Gourmet Cheese Sandwich with champagne bread, edible gold flakes, white truffle butter and cheese imported from Italy; a foot-long Haute Chien for $69 grilled in white truffle oil and topped with duck foie gras and black truffles; a Luxe milkshake that will set you back $100, is made with special milks and creams and served in a Swarovski crystal container; and the most expensive fries in the world, weighing in at $200 for its edible gold, Chipperbec potatoes blanched and scalded in vinegar and champagne and served with a variety of truffles and truffle-infused delicacies.
They must all be ordered with at least 48 hours notice.
OK, now back to the stuff you might know Serendipity3 best for: the sweet stuff.
Frrrozen Hot Chocolate ($17-$20) is pretty much exactly what you'd expect: an ice-cold version of hot chocolate topped with whipped cream, chocolate shavings, and flavors ranging from peanut butter to hot chocolate to salted caramel, birthday cake and vegan coconut. They are as awesome and refreshing as they look and perfect for a cooler summer.
There aren't many places where you can get a la mode Southern pecan pie ($13) and birthday cake ($15), or how about a giant metallic cone filled of fluffy cotton candy called Celebration Tower ($14)? But Serendipity3 has you covered.
It also offers about half a dozen Belgian waffles including one with Nutella and Banana ($18), one with Fruity Pebbles ($18) and another called the Unicorn ($20), a tie-dye vanilla waffle with cotton candy, sugar cone, whipped butter, whipped cream and maple syrup.
Ice cream sundaes occupy a large part of the menu. Standouts include the Outrageous Banana Split ($28) with vanilla, chocolate, strawberry ice cream, bananas, peanuts, nuts, hot fudge, caramel, whipped cream, shavings cherry and chocolate; and Selena's Celebration Sundae ($99) which feeds 12 people with 20 scoops of Selena Gomez's Cookies & Cream Remix ice cream and just about every topping you can imagine, from hot fudge to cotton candy to nuggets.
Not a place to go if you are on a diet.
Cestare says Seendipity3's expansion to Ocean Casino is just the beginning.
"We plan to continue to develop and grow the Serendipity brand," Cesare says. "We've had major developers from across the country reach out to us, and we're excited about the prospect of expanding into entertainment areas, casinos and theme parks across the country."