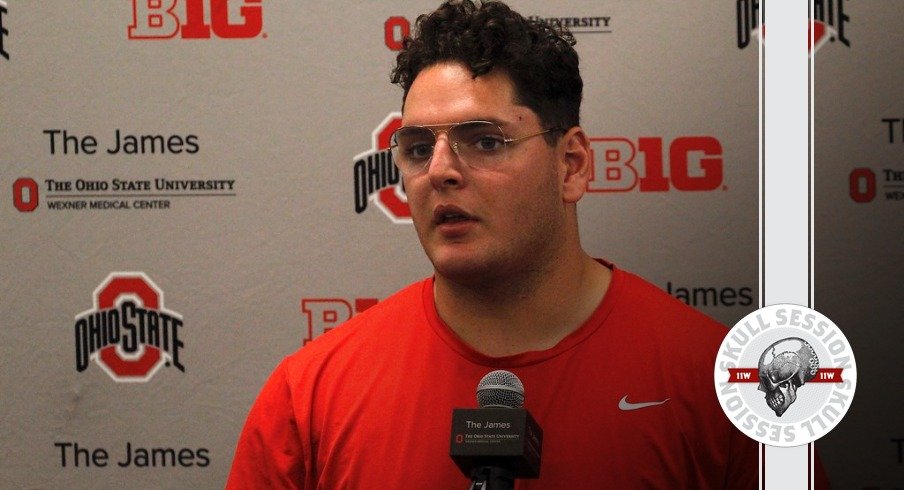 Skull session: Luke Wypler has opinions on bagels and pizza, Ryan Day talks about Justin Fields' first departure and Maryland feels the disrespect
To the beat of Ohio State, we journalists pride ourselves on asking only the most powerful questions day in and day out.
We bring up subjects that will make a source think before they dare to answer. On Tuesday, Ohio state center Luke Wypler was asked about perhaps the most controversial topic of all in 2021: food.
Originally from Montvale, New Jersey, Wypler has had mixed results trying to find bagels or pizza in Columbus that can compare to the cuisine of his home state.
Anyway, he thinks the bagels in Columbus are a lost cause, but he likes Tommy's Pizza on Lane Ave. Free advertising for Tommy's and they didn't even have to sign it for a NIL deal! Or, did they do it?
Personally, this is the first time I've heard of amazing bagels in New Jersey, but what does a Midwestern dude like me know? I guess I can make a full report after going there alongside the Eleven warriors team up this weekend for the Rutgers game. You can hear Wypler's full answer for yourself if you want (the question starts at the 5:19 mark).
Personally, I'm not sure if I'll reflect on the heated 2021 bagel debate this weekend, but never tell me New York pizza is better than Chicago style. Before we start, this is not a casserole, damn it!
One last food review before we move on: Kansas City BBQ is the best BBQ in the world, I don't care what Memphis or Texas says. Eat at Joe's Kansas City to your nearest opportunity. It will change your life. It just made me hungry.
Word of the day: Barbecue.
OH YES, SATURDAY IS A RETURN FOR WYPLER. Wypler told reporters on Tuesday that he attended many Rutgers games growing up, but wasn't a big superfan or anything (Come on, we all know these don't exist. in any event). He will have around 200 friends and family in attendance at SHI Stadium on Friday to root him. Side note: Wypler was recruited by Rutgers, but not by Greg Schiano's regime.
It sounds like a cool time for the Wypler family. But Ryan Day said on Tuesday that Harry Miller, who was supposed to open the season as OSU's starting center, is back with the squad after missing the first four games for an undisclosed health reason he is therefore possible that Miller could return to training this week.
DAY BELIEVES IN FIELDS. I'll be real to all of you for a second. I was dizzy seeing the first career debut of Justin Fields, although optimism was reserved for two reasons.
1. You don't become a Bears fan without developing a severe case of QB PTSD.
2. This Browns defensive line is no joke.
Sunday wasn't a fun day for me anyway.
I don't have too much unconditional loyalty to professional sport anymore, but the Chicago Bears are certainly one of them. Seeing the franchise's face get smashed for nine sacks behind an ill-fated offensive line and a play caller who seemingly has no idea how to get the most out of Fields was deflated to say the least.
Day was asked Tuesday what he thought of his former quarterback's hard day at the office. Although he didn't watch the game, Day provided some context regarding Fields' tough first start that could help Bears fans like me get off the rim.
"It's not a good start, but there are a lot of young quarterbacks who haven't had good starts," Day said. "You think about Peyton Manning's rookie season and everything he's been through there, the hardest thing in this league is getting off the canvas and keep working. He and I talked about it. after the Northwestern game (last year) when you go to the NFL you're going to have several days like that. Days where you wake up and you have to start over. I think what survives in this league is is the resilience of young quarterbacks who identify what happened go wrong and improve and fix it. One thing I know about him is that he is competitive, that he will solve problems and that 'he will come back."
I feel a little better, but not as good as I would feel if Matt Nagy had been removed from his game calling duties.
MARYLAND GETS PISSED TO PLAY AGAIN FRIDAY. Even though Maryland has been in the Big Ten since 2014, apparently the Terrapins don't feel the love of the Big Ten schedule makers.
Having already played against Illinois on Sept. 17 earlier this season, Maryland is tasked with another short week where they host Iowa on Friday. Coach Mike Locksley was not happy!
Maryland, which hosts Iowa on Friday, will play their second B1G game on Friday in the first month of the season.

Mike Locksley: At some point maybe become a full member so we don't have to.

– Ross Dellenger (@RossDellenger) September 28, 2021
Then again, the Terrapins are undefeated so far, so it can't be that bad, right?
HASKELL GARRETT LOVES HIS NEPASSES. With a group of veteran defensive players injured against Akron on Saturday, Haskell Garrett stepped up and had the best statistical game of his college career, racking up three sacks in the victory. But the 6-2, 300-pound defensive tackle still wasn't too cool to make it to the locker room with his nephews Kaisen and Kamden. Pretty hard not to crack a smile when looking at the picture.
My guys Kaisen and Kamden https://t.co/sXN74Jgh0H

– Haskell Garrett (@HaskellGarrett_) September 27, 2021
SONG OF THE DAY. "Welcome to the jungle." So, earlier this week, someone accidentally mentioned that Guns N 'Roses performed last week at the Schottenstein Center. After I finished saying, "Son of a bitch, I would've gone," I called my dad to let him know what I missed. He started laughing at me because I liked the "old man's music" made before I was born. Anyway, he can be an enemy if he wants to, I'm done with that.
https://www.youtube.com/watch?v=y-IBc35uwns
THE BEST OF THE REST. So a Florida man would have hijacked a FedEx truck in a violent afternoon crime spree … The Dispatch has an article suggesting 10 things you could do if you won a $ 570 million lottery but buddy i can think of a few things on my own just fine … how Matt Nagy failed at Justin Fields … 247Sport ranks the Big Ten QB … Extension of college football playoffs encounter problems.