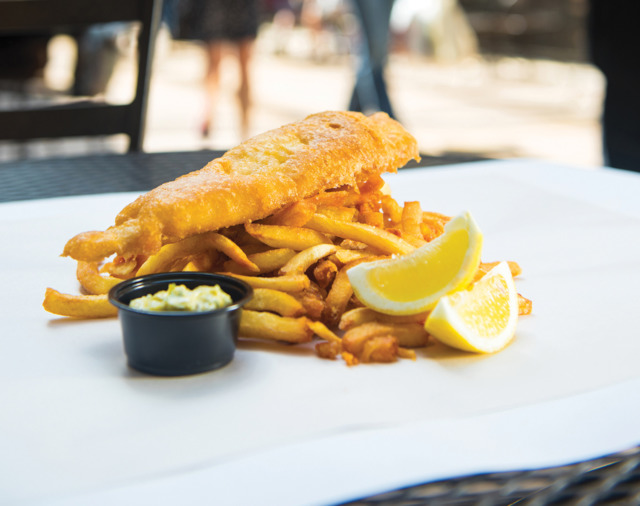 The red perch finally opens its doors at Sylvan Supply | Bites
When he was in his native Australia, Chef Cameron Payne was known to have worked in Attica, which is often on the lists of the best gourmet restaurants in this country.
In Nashville, Cameron and Nicole Payne are known for something less sophisticated, but no less delicious: fish and chips. Yes, they do other dishes (see below), but Nashvillians are clamoring for the Australian-style beer dish. Since 2018, people have been lining up for them at The Arcade, forcing them to go there last year even when downtown lunch was not as common as many people were working from home. Pop-ups in Chopper and elsewhere have helped keep people full.
Finally, Paynes' restaurant, Red Perch, got the expected fans at home. They opened this week at 4101 Charlotte Ave. in the Sylvan Supply building. The new space is marked with a sign from Fortify Nashville, a company that makes many of the cool signs we see in the city. (They also brought the Weiss Liquors sign back to life.) Red Perch's new dog-friendly patio beats better than eating fish and chips to take out in your car. The new space is bigger, which means more food, longer hours, and more seating – and now the restaurant also serves alcohol.
Scene Contributor Ashley Brantley is one of Red Perch's strongest supporters, touting the virtues of not only Payne's fish and chips, but other quick-serve seafood dishes, including poke, shrimp and lumpia, which are pork and shrimp egg rolls that were included in our top 20 takeaways last year. Daily specials change regularly (today they have cobia and grilled squid on the menu), so it's worth visiting regularly. La perche rouge is open five days a week (closed Sunday and Monday), which makes it easy to open.