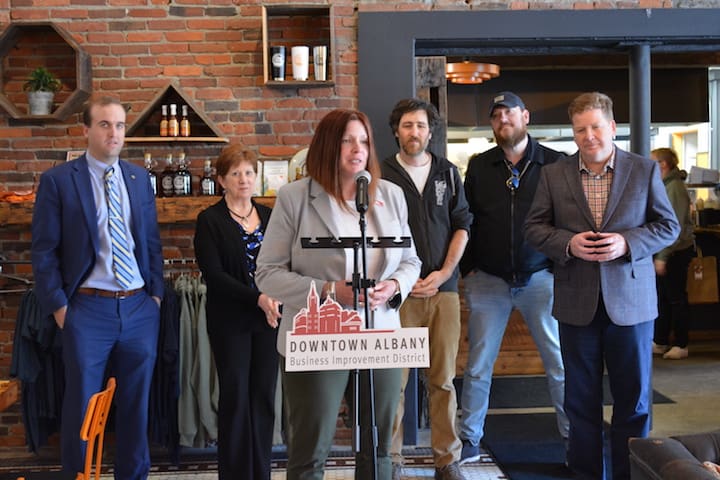 The Skinny Pancake opens first NYC location in downtown Albany – Spotlight News – Home of The Spot 518
ALBANY – The Skinny Pancake, a mission-driven restaurant with a focus on local cuisine, was welcomed to downtown Albany with a ribbon-cutting ceremony on Thursday, March 10.
The opening of the downtown Albany location, the company's first in New York, comes nearly 20 years after The Skinny Pancake began as a food truck that brothers Benjy and Jonny Adler owned. themselves built.
Opening inside the Kenmore Building, the catalyst for the downtown location came after they attended a local event in 2019, when the Capital Region Chamber's President and CEO , Mark Eagan, recognized a natural pairing between the Vermont-based creperie and what Redburn Development envisioned for the historic. Downtown property.
"From their delicious meals, to their fun and funky atmosphere, to their commitment to using local suppliers where possible, we are delighted to welcome The Skinny Pancake to the Capital Region," he said. . "They are a perfect fit for Redburn's redevelopment of the Kenmore in downtown Albany. We hope this will be the first of several locations in the area that will open in the years to come. »
With the owners having sold both the vision shared by Redburn Development Partners Director Jeff Buell for the 3,200 square foot space and the development of the building into a commercial and residential center, the lease was signed and construction started to build a restaurant where, Benjy Adler says, people would walk in and feel immediately at home.
"The Kenmore building has a total area of ​​almost 200,000 square feet. The most important spaces of this enormous volume are not the 93 apartments, but the 10,000 square feet that make up our street-front retail spaces," Buell said. "These retailers, including Skinny Pancake, enliven the streetscape and help us achieve our goal of creating an 18-hour downtown in Albany. We are delighted to have them in our neighborhood.
Skinny Pancake patrons are greeted by a dining area with tables and chairs along the walls and a seating area in the center of the room. The space is embellished with paintings by local artists, a chandelier made from a nearly 100-year-old wagon wheel and a cast-iron stove inscribed with a farmhouse's 'Happy Thought' du Vermont which also serves as a café-bar.
"At The Skinny Pancake, we serve more than food, we serve a purpose, and our customers are the reason we can fulfill it," Benjy Adler said. "We fell in love with the Capital Region a long time ago and have been delighted with the excellent welcome we have received since it opened."
Pancakes, salads and burgers, including vegetarian, vegan and gluten-free options, are served at The Skinny Pancake, with the launch of All Day Burrito and Everything But The Bagel Crepe with the opening of the new location. Downtown diner favorites, according to Adler, are Johnny Crepe (Maple BBQ Pulled Pork, Maple BBQ Sauce, Caramelized Onions and Cabot Cheddar in a Cornmeal Pancake) and Pesto with chicken and cheese (roasted chicken, homemade pesto, caramelized onion sauce, VT mozzarella and Cabot cheddar). Guests can pair their meals with coffee, teas, sodas, beer, wine, and cocktails.
Skinny Pancake's expansion wasn't limited to expanding its footprint to include both Green Mountain and Empire states. In Vermont, Adler says, the local food movement is increasingly becoming the norm and that to further their cause, The Skinny Pancake should expand out of state to larger population centers. Downtown customers sample flavors from local vendors including Highland Hollow Farm, Halo Wholesale, Indian Ladder Farm, Stacks Espresso Bar, Yesfolk Tonics and Wild Hill Maple.
Their mission to build a safer, healthier and more delicious food basin while working with communities in a way that goes beyond a transactional relationship typically associated with the restaurant industry has taken shape in many forms. The Skinny Pancake is committed to donating 1% of its revenue to organizations that directly benefit the local food pantry. In addition to what is in the company's DNA, in response to COVID-19, the Adlers launched ShiftMeals to help feed the many unemployed members of the community; since the beginning of the program, it has grown to include, among others, community garden initiatives.
Benjy Adler was on hand for the ribbon-cutting ceremony and was also joined by Georgette Steffens, Executive Director of the Downtown Albany Business Improvement District (BID), Albany Mayor Kathy Sheehan, Lucas Rogers, Albany County Senior Policy Analyst.
"It was amazing to see people try their first pancakes or revisit a memory from a visit to our Burlington location, and we are grateful to Redburn Development, our team and our customers who welcomed us so warmly into this neighborhood", Benjy Adler mentioned.
"Every day you show us all how right we were to join Downtown, and we look forward to many years of serving you meaningful meals."