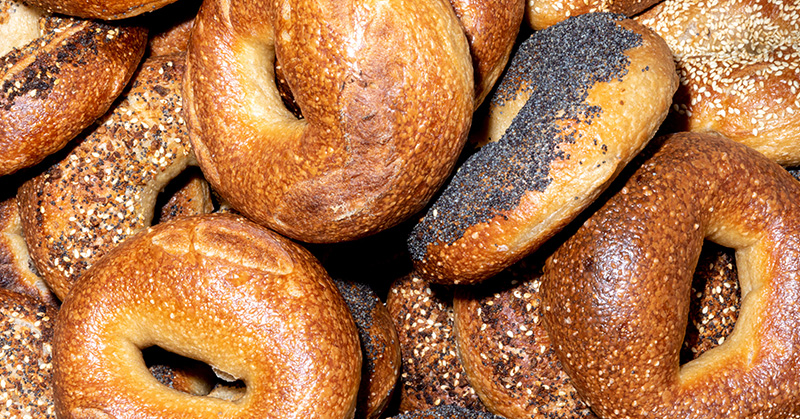 Vegan bagel and pizza store opens in Highland Park this fall
Do you like bagels? Do you like pizza? Would you like to be able to order both items in the same place? Well, you can do that very soon as a vegan bagel and pizza shop is opening in Highland Park this fall.
Handmade bagels, pizza pies and pizza slices with many vegan options
Located on the popular York Boulevard, the "coming soon" sign of Bagel + Slice has captured the attention of passers-by for several months. But what will happen soon? Handmade bagels, pizzas and pizza slices with lots of vegan options!
The Bagel + Slice team adheres to the strict bagel manufacturing standards set approximately 100 years ago by Local 338 Bagel Bakers Union. The process involves forming the bagels by hand, boiling them and baking them on a burlap-lined board in a deck oven. After that, the bagels are spiced with flavor-specific seasonings, spreads and toppings for customers to enjoy.
Vegan Pizza and Bagel Options from Bagel + Slice
Bagel + Slice's gluten-free wheat bagels, pizzas and pasta are completely vegan. Vegan bagel toppings range from avocado and nut-based cream cheese to shiitake bacon and vegan cheese. Vegan pizza toppings include classic vegan cheese, ricotta made with almonds, and all kinds of vegetables. In addition to Bagel + Slice's vegan pizza and bagel options, the property will offer a vegan goddess salad with shiitake bacon as well as coffee and tea.
Bagel + Slice is owned by Blaze Pizza Chef Brad Kent
Bagel + Slice is owned by Blaze Pizza Chef Brad Kent. He's worked as a chef and food scientist for 30 years, most of which has been spent perfecting New York-style bagel and pizza recipes. With everything that happened in 2020, Kent looked for a way to serve great food to a local community using sustainable methods, which inspired Bagel + Slice.
Lowest possible prices for the highest quality products
Bagel + Slice sources its ingredients from regenerative organic farms and the restaurant participates in a local composting program. On top of that, employees receive comfortable salaries and menu prices are set to be accessible to all. This includes students at Occidental College, who can use their lunch cards at Bagel + Slice.
"We are committed to providing our community with jobs that pay better than minimum wage and hope to be able to provide exceptional benefits that would not normally be offered in a typical 'small business'. We are also committed to charging the lowest prices possible for the highest quality products that incorporate premium ingredients to make our very familiar foods accessible to everyone. Our commitment to a lower profit margin ensures that we can provide affordable, high quality meals to ALL of our neighbors, "explained Kent.
Bagel + Slice is scheduled to open later this fall. To follow @bagelandslice on Instagram for the most recent updates.
Photo credit: Jeff Minton