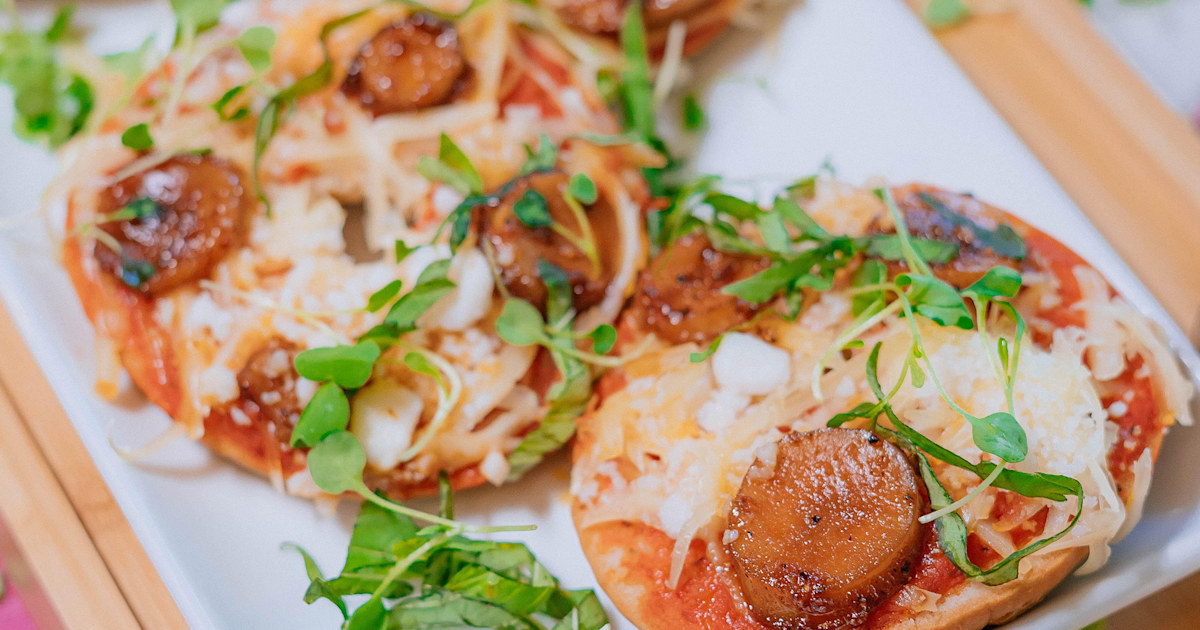 Vegan filled pizza bagels recipe
Chef's Notes
I've always loved pepperoni pizza since I was a kid and have been looking forward to developing a plant-based pepperoni substitute for years! The meaty mushrooms really imbue the full, robust flavor, and since it's hard to find fierce plant-based, gluten-free bread these days, I'm obsessed with these beautiful bagels. I also had a lot of fun working with my sweet husband to create this tasty melody and song, so we like to spruce up this recipe with different grilled vegetables, sauces and herbs on a regular basis.
Technical tip: Be sure to keep moving the mushroom pepperoni around the pan with the extra butter to make sure it doesn't burn.
Exchange option: You can replace the mushrooms with chickpeas for more protein.
Preperation
For the mushroom pepperoni:
1.
Preheat the oven to 415 F and line a baking sheet.
2.
Cut the trumpet mushroom stems into thin circles the size of a pepperoni.
3.
In a large skillet over medium-high heat, melt the vegan butter and sauté the mushroom slices of both sizes.
4.
While you sauté the mushrooms, add the minced garlic, steak or pork seasoning, apple cider vinegar, maple syrup, vegan Worcestershire sauce and smoked paprika. Make sure each mushroom is well coated with butter and seasoning.
For loaded pizza bagels:
1.
While the mushrooms cook in the pan, arrange the bagel halves, cut side up, next to each other on the lined baking sheet.
2.
Pour pizza sauce over each bagel half, then add vegan cheese. Make sure they are well covered.
3.
Once the mushroom pepperoni is a bit crispy, soft, and cooked through, add it to the loaded bagels. I like to add 3-4 pepperoni per half of a bagel.
4.
Bake pizza bagel baking sheet for 8 to 16 minutes or until cheese is melted on top.
5.
Garnish with fresh herbs, vegan feta cheese and crushed red pepper.