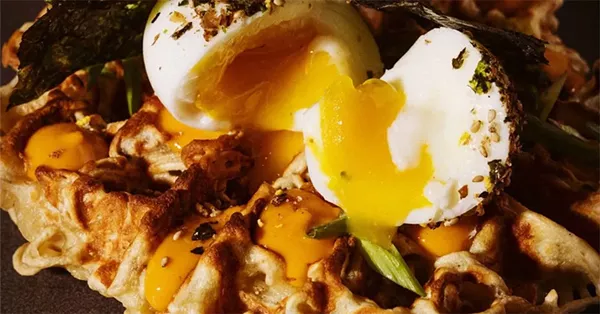 Wacky waffle restaurant The Social Misfits opens in Grand Rapids
Is a waffle stuffed with ramen noodles and topped with a boiled egg right for you? If that's what makes your boat float, you might be in The Social Misfits, an unconventional waffle joint that opened in Grand Rapids last week.
You will find it on the ground floor of the Residence Inn by Marriott hotel in the downtown area of ​​the city. The Social Misfits has a full menu for stoners, including a waffle stuffed with macaroni and cheese and another topped with smoked salmon, cream cheese, and fish roe.
Then there's 'The Yasuke' waffle with ramen noodles, Japanese furikake seasoning, and gojuchang aioli. Who thought it was a good idea to mash ramen and waffles together? The owner of The Social Misfits, clearly. But why, anyway? Well, because why not?
(We would just like to take this opportunity to point out that gojuchang is traditionally used in Korean cuisine, not Japanese dishes like ramen.)
Regardless, the restaurant also offers sweet waffles like the 'Love Me Tender', which are topped with banana, peanut butter, salted caramel, and bacon if you want something slightly more normal. Pair it with a cup of Great Lakes Coffee or a craft cocktail from the bar.
The decor of the Social Misfits also has a 'try really hard to be weird' vibe with floral wallpaper, portraits of Pennywise the clown, and a neon sign that says, "Please don't. coke in the bathroom ".
"We believe in the underdog. The little guy with the crazy idea, because that's where the magic comes from, "we can read on the restaurant's website. "And we believe in your @ #!% Right to eat waffles when you feel like it."
The Social Misfits is located at 43 Fulton St. W., Grand Rapids; thesocialmisfits.com

Stay connected with Detroit Metro Times. Subscribe to our newsletters and follow us on Google News, Apple News, Twitter, Facebook, Instagram or Reddit.